Self Storage in Salado, TX
Caring People Serving A Great Community around Prairie Dell, Jarrell, and Holland
Offering brand new storage units, the Salado location is close to access I-35 and features RV & Boat parking for nearby Stillhouse and Belton Lake communities. Are you feeling overwhelmed by all the clutter in your house? Get organized with Amy's Attic Self Storage in Salado, TX. We offer residential and business storage in a great location that is close to several nearby Central TX communities including: Prairie Dell, Jarrell, and Holland. Best of all, we offer a wide selection of storage unit sizes, so you can be sure we will have a unit to meet your unique needs. Please give us a call at (254) 265-6977. We would love to help you select the best storage unit for your short or long-term needs. Moving or relocating to Salado, TX from another state? Check out our online rental option so that your storage unit can be ready for you when you drive into town with your moving truck.
I was able to pick out my unit and pay for it online. Super convenient. Lauren was extremely helpful when I lost my gate code. One of the only units in the area that has a layout that allows access to a semi truck. 24hr access is priceless. I can't say enough, everything you want from a storage unit
Amys Attic was great to work with us. We started with one storage unit, and then rented a second one then back to one unit. So we had lots of contact with Amy's and all the while everyone we worked with was great. Thank you guys.
Pick a Storage Unit Plan that Works for You
Amy's Attic Self Storage offers one of the most convenient locations in Salado. Just minutes from highways and other major streets, we make it easy to stop in on your way to work or after dropping the kids off at school.
What is the difference between an "online reservation" and "online rental"?
On our website you may "reserve a storage unit" or "rent a storage unit." An online storage unit reservation is similar to a rental car reservation. We will hold your storage unit reservation for your desired move-in date, and you do not need to submit a payment at the time of reservation. For customers who are not 100% sure about the size of storage unit they require, we encourage you to just make a online reservation as opposed to submitting a formal online rental agreement. Our online rental system is set up for customers who have previous self storage experience and know the exact size of unit they need. Our online rental service requires online payment and does establish a formal lease agreement between Amy's Attic Self Storage and the customer. If you are not sure whether to "reserve" or "rent," then we would encourage you to just "reserve" a storage unit at this time. We can always modify your reservation if we determine that you need a different size unit or another one of our locations would be more convenient for you. The "online rental" option cannot be modified as easily and offers the customer less flexibility if you are not 100% sure about your desired unit size or location. Thank you for using the Amy's Attic website. Please remember that you can always call us or visit one of our Central Texas locations if you prefer to do business the old-fashioned way.
*Not all available units may be shown. Please call for availability. Amy's Assurance Alliance is not reflected in pricing above.
Self Storage Salado Texas Reviews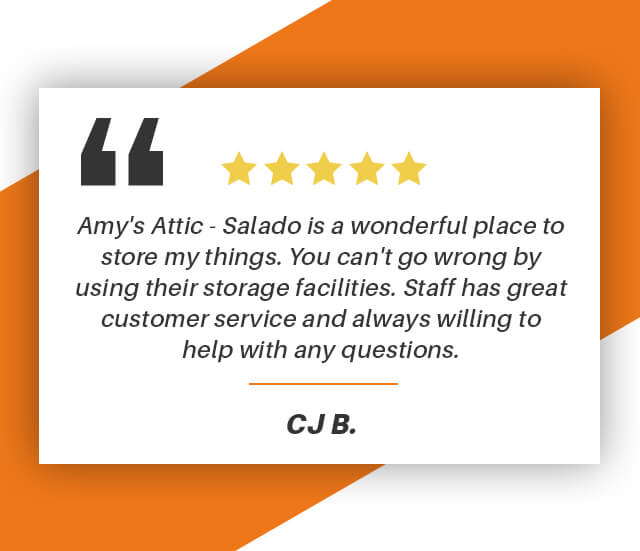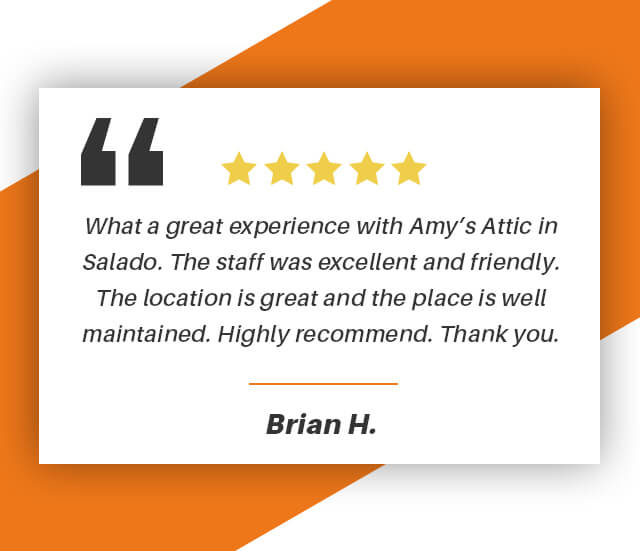 "This property is brand new and beautiful! I love that I can always get to my stuff and feel safe being there after hours. The staff is very helpful and go above and beyond. Will recommend."
– Melodie Ervin
"Salado is great, brand new store and super clean. I needed packing supplies for my move and everything I needed was right inside of the office to buy so I didn't have to go somewhere else. Already recommend to a friend."
– Chandra Howard
Questions? Call our Salado, TX storage facility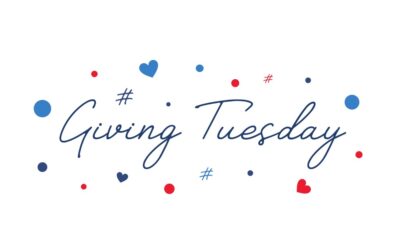 While you undoubtedly have heard of Black Friday and Cyber Monday, Giving Tuesday is a day that isn't talked about nearly as much. The Tuesday after...
read more
The Village of Salado was founded at the Old Military Road crossing of Salado Creek on October 8, 1859 coincident with the founding of Salado College. Many of the leaders of Bell County had felt the need for the establishment of a fine school and very quickly Salado became a viable settlement. It developed both as an industrial and agricultural center with a gristmill within the town limits and 7 other mills within 9 miles on Salado Creek. The first Grange in Texas was organized here in 1873, and Salado ranked second in size and importance in the County until the early 1880s. Read our blog post on the history and growth of Salado, TX.