Self Storage in Harker Heights, TX
Serving a Great Community around Ft. Hood, Killeen, and Copperas Cove
Are you feeling overwhelmed by all the clutter in your house? This location has quick access from established and new neighborhoods in Harker Heights, TX, a growing community in the Ft. Hood, TX area. This location has close access to Stillhouse Lake and is not too far from Killeen and Copperas Cove. Get organized with Amy's Attic Self Storage in Harker Heights, TX. We offer residential and business storage in a great location. Best of all, we offer a wide selection of storage unit sizes, so you can be sure we will have a unit to meet your unique needs.
Pick a Plan that Works for You
Amy's Attic Self Storage offers one of the most convenient locations in Harker Heights. Just minutes from highways and other major streets, we make it easy to stop in on your way to work or after dropping the kids off at school.
What is the difference between an "online reservation" and "online rental"?
On our website you may "reserve a storage unit" or "rent a storage unit." An online storage unit reservation is similar to a rental car reservation. We will hold your storage unit reservation for your desired move-in date, and you do not need to submit a payment at the time of reservation. For customers who are not 100% sure about the size of storage unit they require, we encourage you to just make a online reservation as opposed to submitting a formal online rental agreement. Our online rental system is set up for customers who have previous self storage experience and know the exact size of unit they need. Our online rental service requires online payment and does establish a formal lease agreement between Amy's Attic Self Storage and the customer. If you are not sure whether to "reserve" or "rent," then we would encourage you to just "reserve" a storage unit at this time. We can always modify your reservation if we determine that you need a different size unit or another one of our locations would be more convenient for you. The "online rental" option cannot be modified as easily and offers the customer less flexibility if you are not 100% sure about your desired unit size or location. Thank you for using the Amy's Attic website. Please remember that you can always call us or visit one of our Central Texas locations if you prefer to do business the old-fashioned way.
*Not all available units may be shown. Please call for availability. Amy's Assurance Alliance is not reflected in pricing above.
"The management of Amy's Attic is very astute with respect to taking care of their customers. Chandra and Lauren have gone above and beyond in ensuring accessibility and security of our unit. Thank you for your personal attention."
– Shari Guthrie
"Excellent service. The folks at Amy's Attic are super nice, and attentive to what I need. The facility is well cared for and clean, and the staff makes you feel part of a community. I felt safe to store our belonging here. Super experience!"
– Litto Paul Bacas
Questions? Call our Harker Heights, TX storage facility
Recent Harker Heights, TX News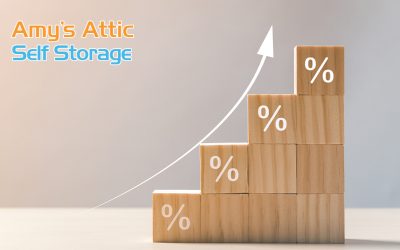 Killeen, TX is one of the strongest markets for self-storage units in the United States. There are a few key reasons for why you cannot drive around...
read more
Harker Heights is a city in Bell County, Texas, United States. As of the 2010 census there were 26,700 people, 9,488 households, and 7,139 families residing in the city, up from a population of 17,308 in 2000. This makes Harker Heights the third largest city in Bell County, after Killeen and Temple. Incorporated in 1960, the city derives its name from one of the two original landowners and founder, Harley Kern. Harker Heights is part of the Killeen–Temple–Fort Hood Metropolitan Statistical Area. People usually refer to the town as just "Heights".