Even though side-by-side vehicles are designed to endure all-weather and all-terrain, that doesn't mean they are invincible. Find out how you should be storing your side-by-side vehicle in the off-season.
Side-by-side vehicles, such as the Polaris RZR and the Can-Am Maverick, have been taking outdoor adventures to the next level! While we wish we could use them year-round, that is not always the case due to the weather (and seasons of life!).
Rather than letting utility terrain vehicles (UTVs) sit outside or in an insecure garage, you should consider how you can better protect your side-by-side vehicle when you're not driving it. Whether you are looking for a short-term solution or a long-term solution, there are specific steps you should take in order to preserve your side-by-side vehicle in its downtime. Let's take a look at how you can best prepare your side-by-side vehicle for self-storage.
Important Features to Consider When Storing Side-by-Side Vehicles
It can be challenging to find the right self-storage facility in Texas for storing a side-by-side vehicle. Most self-storage facilities will offer impressive storage solutions, but not all facilities are specifically geared toward vehicle storage. Before signing any papers, you will want to make sure you find the right self-storage facility for your ATV / UTV needs. While there are many qualities you can look for, the most important are accessibility, security, location, and sizing.
Let's take a look at why these features are a must-have for storing your side-by-side vehicle.
Accessibility. Do you make last-minute plans? Are you in a time crunch? Then, you will want to check out a self-storage facility that offers 24/7 access. There's nothing more frustrating than waiting for the facility to open up just to get your belongings. Instead, find a facility that can guarantee easy access at any hour.
Security. With unlimited accessibility comes the importance of security. ATVs and UTVs can be as expensive as a car (some new UTVs actually have higher list prices than economy cars). Crime and theft are preventable with proper security and a little common sense. The last thing you would want is something preventable to happen to your side-by-side vehicle. You will want to select a self-storage facility that has video surveillance, gate access, and a state-of-the-art security system.
Location. Like most things, convenience is key. Why drive across town to pick up your ATV or UTV when you can find a self-storage facility right next to you? If you need to make a quick maintenance fix or check on your side-by-side vehicle, then it makes sense to have it in a convenient location for you. We recommend choosing a self-storage facility located near your home, work, or school. That's why all of our Central Texas locations are conveniently located to highway and interstate access in Salado, Harker Heights, Waco, Temple, and Belton.
Sizing. While all the other features are great to look for, it is absolutely essential to have the correct sized unit. There is nothing more frustrating than wasting your money and time on a unit that is the incorrect size for your ATV or UTV. To avoid the headache, you will want to measure your side-by-side vehicle. If you are storing with a trailer, then make sure to measure its total length.
Selecting a self-storage facility can be a breeze if you take our important steps into consideration. Need more tips? Take a look at this YouTube video for more features to look for when selecting a facility.
Amy's Attic Unit Sizing Guide
Unsure of what sized unit you need for storing your side-by-side vehicle? No worries, we got you! Whether you're storing your side-by-side as is or with a trailer, let Amy's Attic give you our recommendations for what sized unit you should select.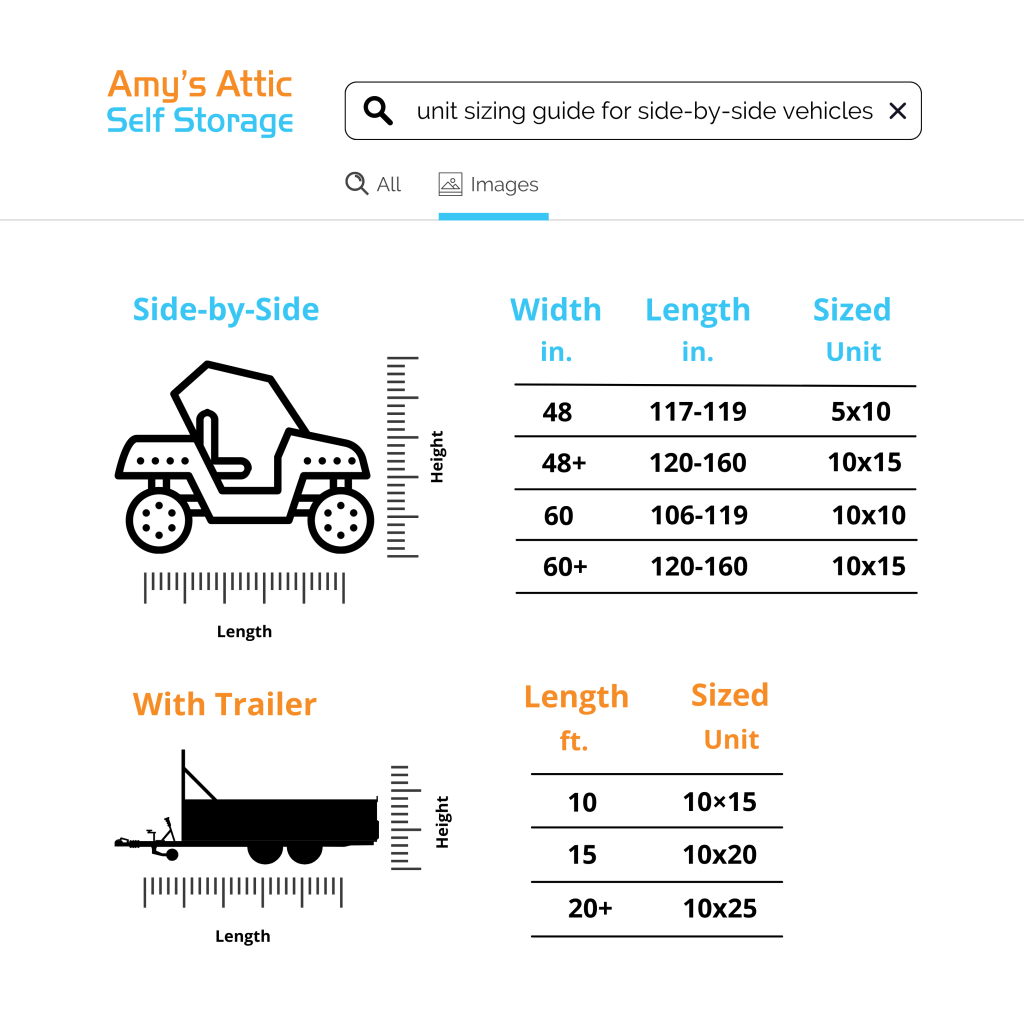 If you want to see a better visual of what each sized unit looks like, take a look at Amy's Attic sizing guide.
Preparation Tips for Storing your Side-by-Side Vehicle
No matter how great of a facility you selected, the unit can only do so much in preserving the quality of your side-by-side vehicle. It all comes down to how you prepare it for storage and preserve it during storage. If you neglect the proper care, even in its downtime, then your side-by-side vehicle will have a shorter lifespan. Extend the longevity of your vehicle by following our 5 easy preparation tips for storing your side-by-side vehicle!
Clean Interior and Exterior. Just like putting any other belonging away in storage, you will want to clean your side-by-side vehicle. This cleaning process means more than just a light exterior wipe-down. The interior can hold quite a bit of dirt and debris in the seats and flooring of the vehicle. The exterior can be subject to irreversible damage if not cleaned properly. You wouldn't want to open up the storage unit just to find paint damage, rust, or any type of corrosion. So, make sure there is no frozen mud, dirt, grime, or trapped moisture left on any part of the vehicle.
Drail Fuel or Add a Stabilizer. If you plan on keeping your ATV or UTV in a storage unit for an extended period of time, especially in the winter, then you will want to consider draining the fuel or adding a fuel stabilizer. For side-by-side vehicles with a plastic tank, you will want to drain out all of the fuel. For those with a metal tank, you will want to fill the tank completely full before adding any stabilizer. This preparation will help prevent any rusting on the inside of the tank.
Replace Oil. After an active season on the ATV or UTV, you will want to replace the oil before packing it away in storage. This oil change will help keep your vehicle ready for whenever you want to take it out. Not only does it save you time, but it also keeps your side-by-side vehicle well-maintained in the off-season.
Remove Battery. For those who are storing over the winter months or for an extended period of time, then it is recommended to remove the battery to prevent any climate damage. The cooler temperatures can damage the battery and cause acids to escape into the vehicle. After you disconnect the battery, you can connect it to a trickle charger at home. This extra step will allow your UTV battery to be ready for when you need to use your vehicle.
Cover. If you are planning on storing your side-by-side vehicle with other belongings, then you should consider buying a cover. The coming and going of bringing other belongings into your unit can expose your vehicle to dust, dirt, and moisture from outside. Rather than letting all the previous preparation go to waste, you can put an extra layer of protection on your vehicle by adding a cover.
Additional UTV / ATV Resources
Rent or Buy a UTV in Central Texas
Looking to rent or buy a UTV in Central Texas? Then, consider supporting these local Central TX businesses:
Hill Country Adventure Rentals
https://www.hillcountryadventurerentals.com
830.693.3147
7030 RM 1431, Marble Falls, TX 78654
Texas Motor Sports
https://www.texasmotorsports.com/
254.526.7800
899 W Central Texas Expy Harker Heights, TX 76548
Hoffpauir Outdoor Superstore
https://www.hpolaris.com/
855.648.3341
2114 US-84, Goldthwaite, TX 76844
RideNow Powersports Georgetown
https://www.ridenowgeorgetown.com/
512.948.9922
2534 N Austin Ave. Georgetown, TX 78626
About Amy's Attic Self Storage
For 17 years and counting, Amy's Attic Self Storage has proudly served the community of Central Texas through its comprehensive storage unit solutions. With five locations scattered across Central Texas, Amy's Attic leads the way in both residential and business storage solutions. Our secure facilities offer an accessible and clean storage environment for both your short and long-term storage needs. If you are interested in renting a unit or have any questions about UTV storage or vehicle parking, then please use the Rent Now feature on our website or call 855.426.9728.