Central Texas is home to among the most beautiful state parks in America, from wide, crystal-clear rivers to sweeping hills, red rock canyons, and lush forests. It's no wonder that Texas is considered the golden standard for cowboy nostalgia!
Many national and state parks are starting to reopen across America, meaning it's an opportunity to get out of the house and enjoy nature while maintaining safe social distancing guidelines.
Colorado Bend is a treasure just an hour-and-a-half south of Temple which is packed with unmatched beauty, hours of hiking, biking, kayaking or swimming, and traditional camping to bring you even closer to nature.
Spend a weekend in the untamed landscape of Gorman Falls or Spicewood Springs, fish or paddle the river, walk through caves which are over thousands of years old, test 35 miles of hiking and biking trails.
Colorado Bend is famed for its idyllic fishing and swimming spots. Some areas of the river feel so far removed from the usual Texan wilderness that it feels as if you've been transported to a lush patch of tropical jungle.
Things to Do
Enjoy the many swimmable springs, fishing and canoeing all along the river. This is also a popular spot for cave tours and cavern exploration, however Covid-19 shutdowns and safety advisories may have put such guided tours and other services on hold. It's best to check out the park website before booking any trips to be sure you receive the experience you were looking forward to.
Overnight Camping
Colorado Bend offers sites for many styles of camping, whether you prefer to drive up in your RV, park and haul your camp equipment, or even hike miles to set up your tent on an off-the-grid backcountry plot.
Overall, Colorado Bend is a must-see destination for experienced outdoorsmen and families alike, with a natural beauty and plenty of activities to make every visit unique.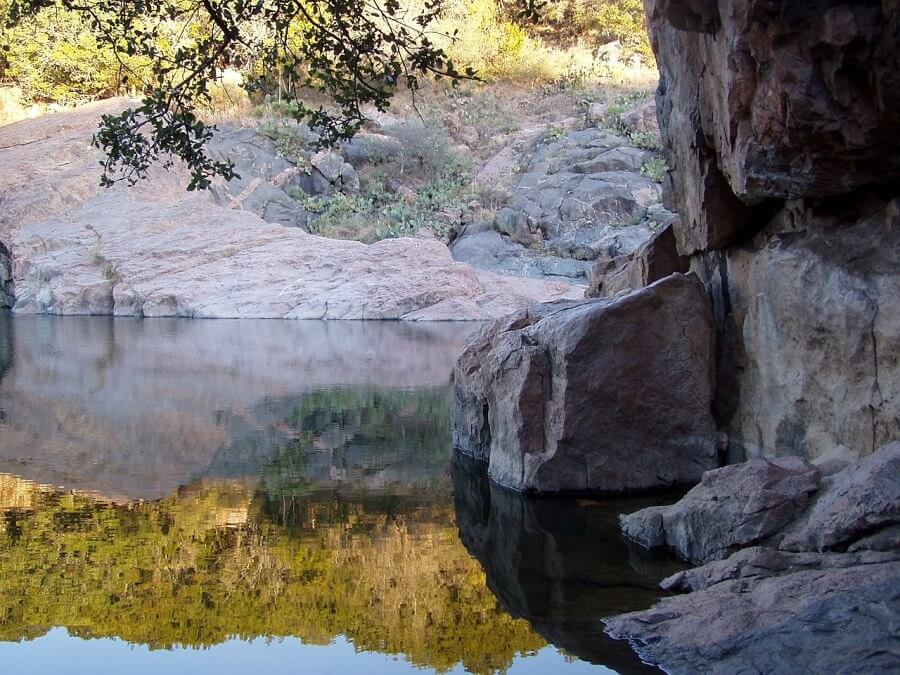 Source: Benjamin Bruce
Just an hour southwest of Salado, Inks Lake is a bright blue gem nestled between rolling orange hills and lush rocky outcroppings. This is a fantastic year-round spot to visit for swimming, fishing, paddling, picnicking, and camping.
Geocaching is also a popular activity around the park. For the uninitiated, geocaching is a hobby that can be compared to a global scavenger hunt, where some enthusiasts hide special containers in locations they mark on the Geocaching app or other services. Other geocachers can see this location on their map and attempt to find it, leading to fun exploration and a sense of satisfaction and accomplishment.
Things to Do
9 miles of hiking trails wind all around the lake, through lush forests and over airy hills. Many spots along the trails open up to beautiful vistas, overlooking the lake, surrounding hills, and sunsets that make the area something special.
Pecan Flats is a 3-mile self-guided trail that is perfect for beginners and families looking to enjoy a scenic hike. Swimming, birdwatching, fishing, and many watersports are welcome on the lake, with a large no-wake zone set aside for canoeing, kayaking, and paddleboarding.
The Devil's Waterhole is a beautiful swimming spot which can be found at the end of a scenic hike through a small, rocky canyon.
A must-see now that autumn is just around the corner, Lost Maples features gorgeous vistas of lush bigtooth maple forests and rocky outcroppings that rise above the serene Sabinal river. Miles upon miles of trails through the wilderness feature babbling creeks, cool shade from the trees above, and even a hike over the peak of a 2,200-foot cliff!
Photographers can find a wealth of opportunities for beautiful shots of the central Texas wilderness. Stargazing, overnight camping, backpacking, and geocaching can all be found at Lost Maples as well.
A Precious Ecosystem
Lost Maples is home to a grove of Uvalde bigtooth maples, a Texan tree native to the limestone and igneous soils of the canyons and plains across central Texas. Each can grow to 50 feet tall and bloom with vibrant red, orange and yellow leaves in the fall.
Lost Maples' location nestled within the shady canyons of the Texan hill country has allowed the maples to flourish, lending the park its incredible beauty and cementing its reputation as a state and national treasure.
Bigtooth maples have shallow roots across rocky, sandy footholds, making them vulnerable to being damaged by those who wander off marked paths. The park is beautiful and may invite many visitors throughout the year, but in order to maintain its beauty for many years to come, visitors must stay on designated trails and cannot climb any rocks or trees which have been marked as off-limits. Beyond the long-term ecological concerns of trampling on protected areas of the park, the terrain is rough and may include sheer drops.
Lost Maples can create unforgettable memories for the entire family, making it among the best state parks in central Texas. With so many other parks to choose from, however, the choice might be a difficult one for each individual. We encourage you to visit these parks for yourself, as well as the many others across Texas, and choose for yourself!

Serving the Central TX Community
Amy's Attic Self Storage has been proud to serve the community of Central Texas since 2004, with many locations in towns across the region. Are you planning to visit State Parks in Central Texas? If you want storage for your next camping or hiking trip, Amy's Attic has the stellar service and top-of-the-line facilities you need to keep you running strong. Our units are climate-controlled, monitored at all hours, and highly accessible. Find the storage facility location nearest you at amysatticss.com/locations.