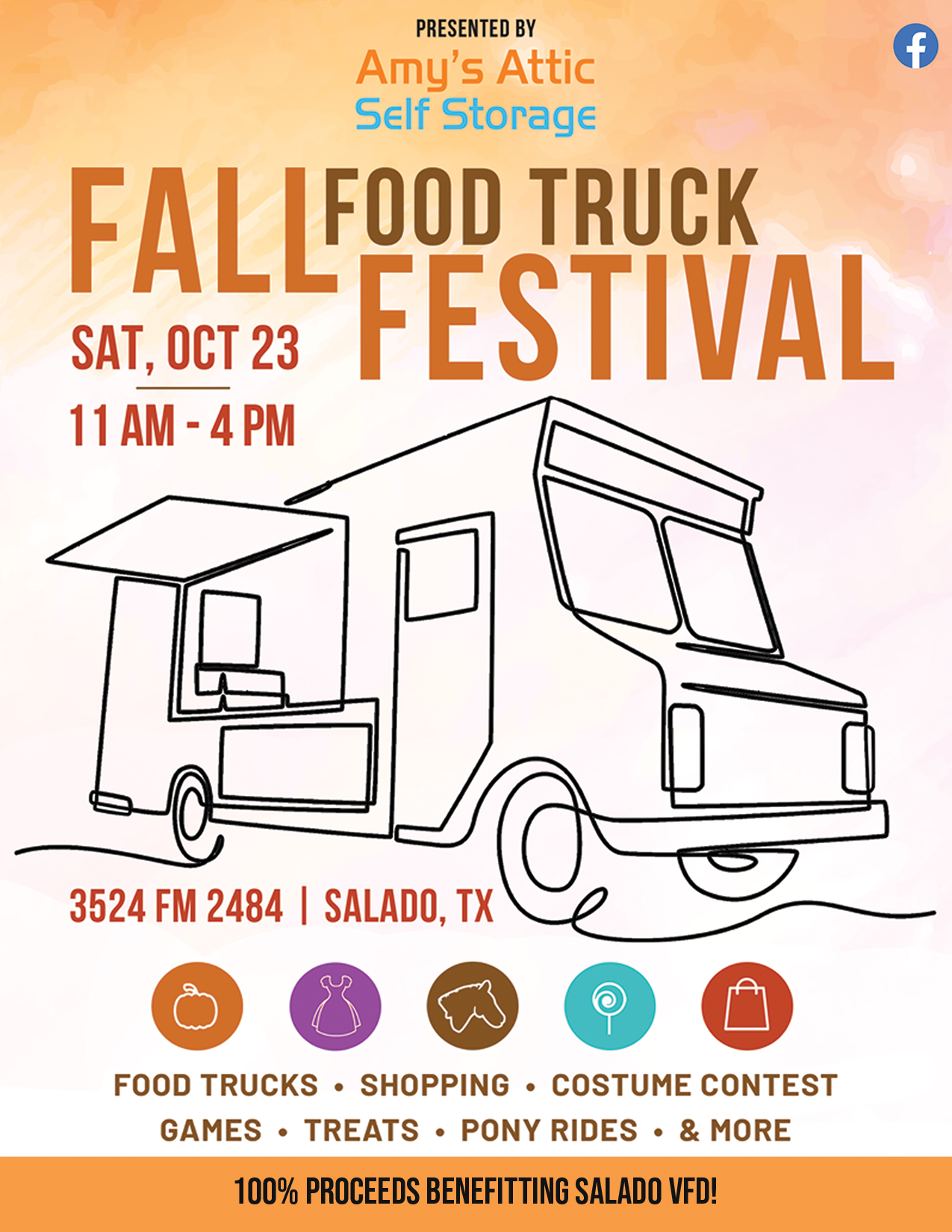 Amy's Attic Self Storage is sponsoring their 7th fall festival, "Fall (Food Truck) Festival", on Saturday, October 23rd to benefit the Salado Volunteer Fire Department.
This event is scheduled from 11:00 am to 4:00 pm. This family friendly event features 60 food trucks and vendors as well as kids' costume contest, fire trucks and volunteer firefighters, inflatables, entertainment, and much more. This event is to be held at Amy's Attic Self Storage's 3524 FM 2484 Salado, TX location. Entry is free, as are the costume contest, inflatables, and kids' activities.
LT. Shawn Bolding of the Salado Volunteer Fire Department said: "We had a great turnout last October and we are excited to be part of the fun again this year. It was wonderful to see so many of our community members and we always appreciate their support."
Over the years Amy's Attic Self Storage, through its Amy in the Community efforts, has sponsored fundraisers for Belton Educational Enrichment Foundation, Foster Love, Habitat for Humanity, Cub Scouts, Boy Scouts, Families in Crisis, Inc., Children's Rainbow Room, Operation Phantom Support, Boys and Girls Clubs of Central Texas and local schools through Amy in Education and countless others.
Plentiful free parking is available at the Fire Department, located just next door to the festival area. Vendors are placed to allow for socially distanced shopping at this outside event. Hand washing and sanitizing stations are provided. For more information or for businesses looking to help support the event and the Fire Department, contact Mrs. Bethany Rivers at (254) 690-0010 or via email at craftfestival@amysatticss.com.
About Salado Volunteer Fire Department
The Salado Volunteer Fire Department is an organization of men and women whose purpose is to protect life, property, and the environment by delivering high quality Fire and EMS services to the Salado and surrounding Central Texas area. The Salado Volunteer Fire Department has two fully equipped Fire Stations to serve the Salado community as well as I-35 and surrounding areas.
Sign Up for Our Festival Contact List to be Notified of Upcoming Events
About Amy's Attic Self Storage
Amy's Attic Self Storage is locally owned and one of the fastest growing privately held self-storage portfolios in Texas. With state of the art facilities, Amy's Attic provides traditional fixed mini storage, covered parking and outdoor storage. Amy's Attic Self Storage also provides convenient 'rent anytime' kiosks, ATMs and full-service trucks for rent at various locations. Call (855) 426-9728 to learn more about Amy's Attic Self Storage, its storage offerings, available meeting space, Amy in the Community or Amy in Education