Looking for 2019 Central Texas Christmas Events? Christmas is coming, which means it's a time for family, friends, charity, and celebration. Luckily, Central Texas is the perfect place for all four! Whether you want to entertain the kids and enjoy a lovely night out, get your gift shopping in early, or help spread holiday joy to the needy, Fort Hood and the surrounding area has a broad range of events to offer.
2019 Fort Hood Sports Club Holiday Bazaar
Dates: November 16 – 17, 2019
Location: 3601 South W.S. Young Drive, Killeen, TX
Admission: $6, kids 12 & under FREE
Open to the public, the Holiday Bazaar is a wonderful way to spend a weekend with the whole family! Enjoy arts & crafts vendors, pictures with Santa, outdoor food vendors, and a Holiday Cafe, complete with themed treats and so much more.
Website: http://forthoodspousesclub.org/events-activities/holiday-bazaar
Flanigan's Texas Christmas
Date: December 7, 2019
Time: 12 – 7pm
Location: 330 North Lampasas Street, Bertram, TX
Admission: Free!
Get into the holiday festivities at Flanigan's Distillery, with live music courtesy of Bear Creek Wilderness, a local artisan holiday market, and a special party menu with themed cocktails! There's no tastier way to feel the Christmas spirit, Texas-style.
Website: https://www.eventbrite.com/e/flanigans-texas-christmas-tickets-75491714751?aff=ebdssbdestsearch

73rd Annual City of Temple Christmas Parade 2019
Date: December 2nd, 2019
Time: 6:30pm – 9:30pm
Location: Downtown Temple, 2 N Main Street, Temple, TX 76501
Admission: Free!
Join us on the First Monday in December for one of the largest lighted Christmas parades in Texas and help welcome Santa Claus to Downtown Temple.
Website: https://www.eventbrite.com/e/73rd-annual-city-of-temple-christmas-parade-2019-registration-74754585979?aff=ebdssbdestsearch#tickets

5th Annual Christmas Holiday Bazaar
Date: November 14, 2019
Time: 9am – 3pm
Location: 6200 West Central Texas Expressway, Anderson Campus Center Bldg. 156, Killeen, TX
Admission: Free!
Central Texas College hosts its 5th Annual Christmas Holiday Bazaar, featuring over 50 vendors to get your shopping started ahead of schedule! Shop guilt-free, knowing all the proceeds go towards education, including student-led projects and scholarships. Door prizes are given out every 15 to 30 minutes, and their silent auction is stunning every year!
Website: https://www.eventbrite.com/e/5th-annual-a-christmas-holiday-bazaar-tickets-70358071887?aff=ebdssbdestsearch

Feast of Sharing
Date: December 17, 2019
Time: 4 – 8pm
Location: Killeen Convention Center, 3601 South W S Young Drive
Admission: Free!
The Feast of Sharing is dedicated to helping the needy, fighting hunger, and serving holiday meals to allow everyone to experience the Christmas cheer. An amazing 3,000 pounds of sliced turkey may be served in an average Feast! You may also get an opportunity to receive a visit from Santa himself.
Website: https://www.heb.com/static-page/article-template/Feast-of-Sharing

Christmas in Black & White
Date: December 15, 2019
Time: 6:15 – 7pm
Location: Cityview Bible Church, 2441 County Road 112, Round Rock, TX
Admission: Free!
Remember the holiness of the original Christmas with the Cityview Kids Christmas program put on by Cityview Bible Church! The play includes acting, costuming, singing, and set design that is sure to impress the whole family.
Website: https://cityviewbible.org/CKchristmas

Christmas Sip & Savor
Date: December 10, 2019
Time: 6:45 – 9pm
Location: Lone Oak Barn, 1810 North County Road 122, Round Rock, TX
Admission: $5
Enjoy a night of shopping, coffee, and Christmas music at the lovely Lone Oak Barn! The music starts at 7:30.
Website: https://www.eventbrite.com/e/christmas-sip-savor-tickets-73560891607?aff=ebdssbdestsearch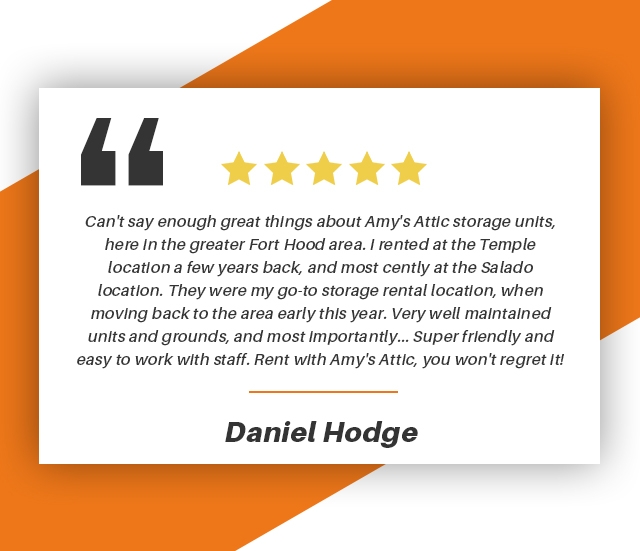 About Amy's Attic Self Storage
Amy's Attic Self Storage is locally owned and one of the fastest growing privately held self-storage portfolios in Texas. With state of the art facilities Amy's Attic provides traditional fixed mini storage, covered parking and outdoor storage. The Harker Heights location is also equipped with a meeting room for rent. Amy's Attic Self Storage provides convenient 'rent anytime' kiosks, rent-anytime online features, ATMs and full-service trucks for rent at various locations. Visit www.amysatticss.com or call (855) 426-9728 to learn more about Amy's Attic Self Storage, its storage offerings, available meeting space, Amy in the Community or Amy in Education. Did we omit an event from the above list of 2019 Central Texas Christmas Events? We look forward to your feedback and will update our list as we receive information about 2019 holiday events around Ft. Hood.