Have you ever wondered how to store batteries properly? If you have any electronics, there is a great chance that you have handled batteries in some form throughout your life. Batteries are a collection of one or more cells that create a flow of electrons through a chemical reaction within the battery. The power from this chemical reaction flows out of the battery and into the elements it's connected to, powering the circuit.
This process may sound complicated. But batteries themselves serve as a simple, convenient, and crucial power source for much of our modern technology. From flashlights to computers, a battery is there to keep things working. Consequently, it's essential to know how to take care of batteries so they work when you need them most.
Types of Batteries and Their Shelf Life
The shelf life of batteries is determined by the type of battery. For the most accurate information, be sure to check the packaging on your purchased battery. Some brands and types even display expiration dates directly on the batteries themselves. Keep those times in mind when storing your unopened, unused batteries (so you can replace them with new ones if they expire). The last thing anyone needs in an emergency situation is batteries with no charge!
Cylindrical batteries:

Lithium: 10 to 15 years
Carbon zinc: 3 to 5 years
Alkaline: 5 to 10 years

Coin cell batteries:

Zinc: 2 years
Alkaline: 3 years
Silver Oxide: 3 years

Lead-acid batteries
Lithium-ion batteries
Car batteries

5 to 6 years, 2 to 3 years in hot / humid climates
How to Store Batteries | Storing Different Types of Batteries
Some batteries need more upkeep when in storage than others. Many smaller batteries don't need much care to be in top working order, such as cylindrical or coin cell batteries. On the other hand, other batteries may greatly benefit from extra storage precautions to ensure that you get the most out of them for the longest time possible.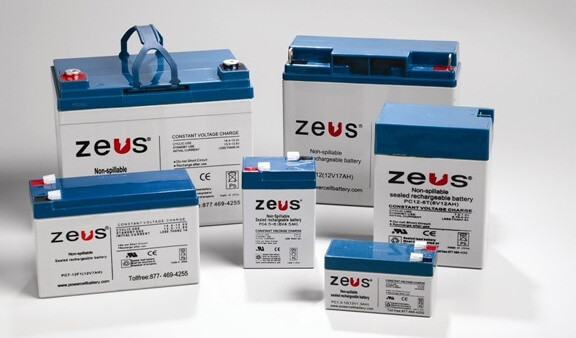 Lead-acid Batteries
Lead-acid batteries are among the oldest examples of rechargeable batteries, and are commonly used in small-scale power storage, hybrid vehicles, solar panels, and larger grid systems, among other uses. While in storage, going too long without an electric charge can cause these batteries to very quickly deteriorate. Here are some steps to keep your lead-acid battery in top shape:
Fully charge your battery before storing it
Store at room temperature or lower
Don't expose to high humidity
Charge the battery every 6 months
Avoid over-discharge (discharging at a higher rate than the voltage cut-off)
Lithium-ion Batteries
Lithium-ion batteries are rechargeable and most commonly used for cell phones, laptops, other portable electronics, and electric vehicles. In most cases, fully charging a battery before storage is a safe bet. However, in the case of lithium-ion, it can be beneficial to store it at a lower charge. For best results, follow these tips below:
Store at 30-50% maximum charge

If storing for longer than 3-4 months, a full charge may be more suitable

Store at room temperature or lower
Don't expose to high humidity
If connected to a laptop, set laptop battery setting to "long life" mode or similar
Nickel-cadmium Batteries
Nickel-based batteries have been a gold standard for rechargeable battery power for decades, starting with nickel-cadmium (NiCd) batteries all the way back in 1899. Today, NiCd batteries are considered among the most rugged and forgiving models on the market, used in emergency medical equipment, radios, power tools, and the airline industry—all applications that require a long-lasting, tough battery. These batteries:
Can be stored at any state of charge
Don't require much to recharge if left at 0% for too long
Can lose charge quickly, but be recharged quickly
Produce a low voltage but their durability can be a worthwhile trade-off for some uses
Non-rechargeable Batteries
You may notice from the examples above that they are all rechargeable batteries. Whether or not a battery is rechargeable is an important distinction to make when preparing them for storage, as rechargeable batteries tend to require more maintenance, but last much longer than their non-rechargeable counterparts. Still, it's entirely possible to store non-rechargeable batteries for a long period of time.
How To Store Car Batteries
Car batteries require a lot of checking in on while in storage. Indeed, a lot of attention is needed when planning to put one away for a longer amount of time. Here are some tips to make sure your stored car or truck battery does not run out of juice when you need it the most:
Make sure the voltage never drops below 12.4

A great way to ensure this is to use a battery maintainer device which will monitor the battery and keep it charged.

The battery should be stored upright
Keep the battery clean to prevent leakage currents
The battery should be fully charged before storage
The storage room should be ventilated without humidity
Keep it above 35 degrees but less than 85
Why It's a Good Idea for Texans To Store Batteries for Emergencies
Having batteries in your emergency stockpile is essential and could save you a lot of stress in an already stressful event. Batteries can charge your sump pump to stop flooding, get your car on the road for evacuation, turn on flashlights, power emergency radios or generators, and much more. When you are in a disaster situation, having power and energy is only going to improve your chances of comfort and survival. That's why you should replace the stock of your smaller batteries twice a year to ensure they are ready when you need them.
This was a really great place to store anything you have need to. The ladies I dealt with have been great as it has been a long term storage for us until our house was built. Easy access and very clean grounds as well as the units. – Tim Quillen (Belton, TX)
How to Dispose of Batteries in Central Texas
To safely dispose of batteries, it's important to know what batteries you may be dealing with. Regular alkaline, manganese, and carbon-zinc batteries can be thrown away in the normal trash without any special treatment. Nickel-cadmium and small sealed lead-acid rechargeable batteries produced after 1997 can be recycled at your nearest battery recycling facility. If not recycled properly, these batteries can leach deadly lead or cadmium into the environment, potentially causing severe health problems to those exposed or long-lasting environmental damage.
For the sake of everyone's health, safety, and the environment, please be sure to know what disposal methods your specific batteries require and follow those instructions. At worst, you may be slightly inconvenienced, but at best, you can help prevent devastating fires, toxic health consequences, or even criminal charges. For more information, this article may be helpful.
Some cities and local governments have organized or set up battery disposal programs to help protect our beautiful Texas environment. Below are a few examples:
Where to Buy Batteries In Central Texas
Batteries Plus Bulbs
Address: 3809 S General Bruce Dr #107, Temple, TX 76502
Phone: (254) 773-4555
Tractor Supply Co.
Address: 620 West Us Highway 190 Svc Road, Belton, TX 76513
Phone: (254) 933-7907
Interstate Batteries of Brazos Valley
Address: 8601 Mars Dr, Waco, TX 76712
Phone: (254) 666-1293
Central TX Self Storage Facilities – Amy's Attic Self Storage
With 5 awesome locations across Central Texas, Amy's Attic Self Storage offers a safe storage environment for your different kinds of batteries. With awesome customer service and multiple unit size options, we stand ready to serve you. If you are interested in leasing a small or large storage unit or if you have questions about storing batteries, then please contact Amy's Attic Self Storage at 855-426-9728.