Imagine buying high-quality women's clothing, putting them in storage just to find out they have been ruined! It's no secret that women's clothes can be expensive and intricately designed with high-quality fabric. Storage is a place for your valuable items to be stored safely while maintaining their quality for different ranges of time. Improper long-term storage may have a negative effect on your outfits and deterioration is a possibility. However, that doesn't mean that is always the case. With proper storage skills, you can maintain the quality of your favorite outfits safely and properly stored with no stress. Find out Amy's Attic Self Storage's top tips for how you can preserve your clothing in a storage unit below!
Popular Women Clothing and Fabrics
Even as fashion trends grow and fade, the classic, popular fabrics have stayed consistent in women's clothing throughout the years. While some clothing items may only use one fabric, the majority of outfits include a variety of fabrics with different properties. It's important to be mindful of what fabrics are used in order to properly care for them. Whether you're washing them in a machine, doing different types of activities, or putting them into storage, it is crucial to know their specific care needs for the type of fabric. Here are some of the most popular fabrics you may find your outfits using to give them the look and the feel that you love:
  Cotton
  Silk
  Linen
  Satin
  Polyester
  Knit
  Wool
These different types of fabrics can be found in a variety of clothing. If you are curious about what fabric your clothes are before washing or storage, you can check the tag located on the inside of the clothing. Additional care and instructions specific to the fabric can be located on this tag.
Tips When Storing your Clothes
Storing clothes can be a daunting task if you are unsure how to start. Whether it's seasonal storage, a moving situation, or you just want to make room in your closet, you will need a system to store your clothes. Good news: these tips are not labor-intensive and will guarantee an extended life out of your clothes! You will be surprised at just how easy it is to give your women's clothing articles the proper TLC they need to survive a storage unit for a very long time.
1. Wash Your Clothing Items
You will want to make sure your clothes are freshly washed to avoid any odd smells that might cling to them otherwise. This will help combat mold and mildew as well provided they are fully dried.
2. Avoid Vacuum Packing
It may be tempting to vacuum pack your clothes since it can really reduce the space, but it will cause more harm than good. The vacuum packing method can allow for deep creases and hurt the clothing since there is no air circulation further the rate of deterioration.
3. Pack According to Fabric
It may seem to be a time-saver to just pack everything as you see it, but it's important to pack according to fabric to avoid damage to clothing.
4. Pack them The Right Way
When looking at your clothes, you may notice that some articles of clothing will fold easier than others. While t-shirts, underwear, and sweaters can easily be folded, articles such as blouses or dresses should be hung up straight perhaps in a dust cover to keep them pristine.
5. Understanding Weight
When storing your women's clothes, it's a good practice to put the heavier clothes on the bottom to avoid deep creases in lighter clothing. In return, this will allow the clothing to breathe and have the necessary circulation, as mentioned above.
6. Lighten the Load
When going through your closet to move to storage, it's a great idea to go through each one and see what you want to keep and what you can part with. You can sell, give away, or donate what you don't want, therefore, leaving more room for what you care for the most.
7. Make an Inventory
To keep your items easier to access, create an inventory and label where your items are located and which categories they fall into. You never know when you'll need a specific outfit so make sure you know where it all is stored.
Items To Aid in Storage
Women have been storing their clothes for years with efficient methods that have been created and perfected over the years. So, there are plenty of products out there that will greatly assist you in keeping your fabrics safe and ready to wear as soon as they come out.
1. Cedar Balls
These helpful balls deter bugs, such as moths, from having their way with your important clothing items. They won't damage your clothes so it's a great way to add a layer of protection. Do not add too many mothballs as they are a pesticide.
2. Wardrobe Boxes
These are perfect for your clothing that needs to be hung up for protection. Coming in different materials such as cardboard or plastic, they are a great way to keep the creases out of your extra cared-for clothing.
3. Dust Protectors
For the extremely important clothes, you can buy dust protectors to keep away just what it describes, dust! Slip it onto something such as a dress and you can rest easy if you are worried about debris.
4. Bins
Plastic bins are perfect for your clothes to keep them safe from environmental factors. It's important to buy dark ones to keep out the sunlight. Remember to keep in mind the tip of storing heavier items on the bottom.
3 Shocking Statistics on Women's Clothing and Shopping Habits
1. According to NY Daily News, the average woman goes to the store 301 times throughout the year, spending almost 400 hours shopping a year. When it amounts to an average lifetime, she will spend an average of 8.5 years shopping.
2. According to an online study published by Adweek, 41 percent of girls (ages 13-18) reported having purchased 10 or more clothing items in the past six months. The same group of girls all identified shopping to be their favorite hobby.
3. According to an article published by Forbes, the average American woman owned nine outfits in 1930. As of today, the average number of outfits owned is 30!
Field Survey of American Spending Habits
According to a mobile survey conducted by Field Survey of 500 U.S. consumers, split evenly between men and women, the sales are the top reason for purchasing new clothes. Following close behind, the next reason is new seasons, then vacation, and career. These answers were consistent for both men and women in the study.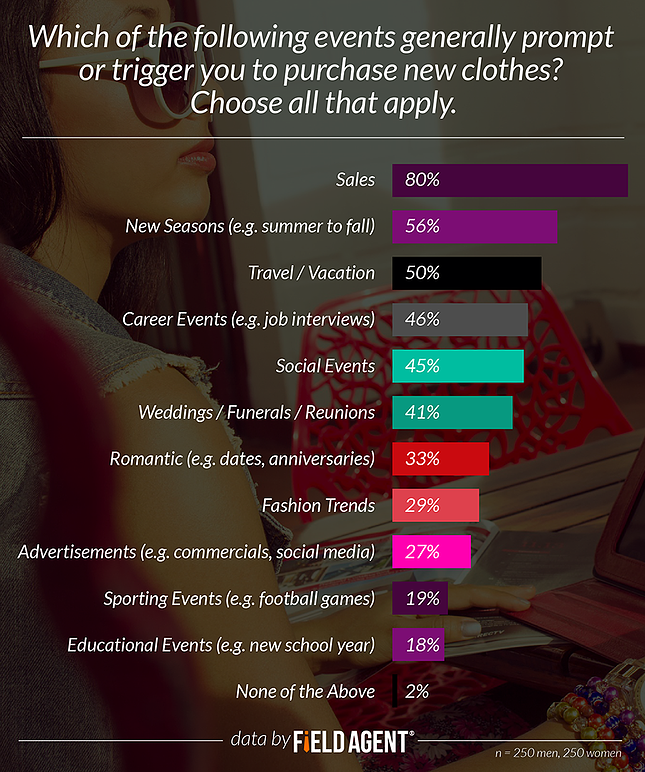 Local Women's Clothing and Consignment Stores
Shop local to buy next-to-new clothes to add to your closet– or storage unit! Whether you are looking to buy secondhand or sell some of your clothes, these stores can provide you with both. Here are some of Amy's Attic Self Storage's favorite Central Texas women's clothing and consignment stores.
Shar's Consignment
Address: 1615 Canyon Creek Dr, Temple, TX 76502
Website: https://sharsconsignment.com/
Twice Upon A Clothesline
Address: 6 N 2nd St, Temple, TX 76501
Website: https://twice-upon-a-clothesline.business.site/
Plato's Closet- Killeen
Address: 3213 E Central Texas Expy Ste 500, Killeen, TX 76543
Website: https://www.platoscloset.com/locations/killeen-tx
Julia's Closet
Address: 616 S Gray St, Killeen, TX 76541
Website: https://julias-closet-womens-clothing-store.business.site/
Amelia's Fashion Exchange
Address: 2452 W Loop 340, Waco, TX 76711
Website: https://myamelias.com/
Another Season Consignments
Address: 617 Lake Air Dr, Waco, TX 76710
Website: https://anotherseasonconsignments.com/
Local Women's Clothing Donation Centers
What better way to clean out your closet than by donating some of your outfits to someone who will get great use out of it. There is always a need for women's clothing in donation centers. It doesn't matter how many items you donate; all donations are appreciated. Support our Central Texas community by donating women's clothing to some of the most reliable and convenient donation centers for your next cleaning haul.
Our Lady of the Angels Maternity Shelter
Address: 613 S 9th St, Temple, TX 76504
Website: https://ladyoftheangels.org/
Goodwill Donation Center- Temple
Address: 702 S 53rd St, Temple, TX 76504
Website: https://hotgoodwill.org/
Goodwill- Killeen
Address: 4004 E Stan Schlueter Loop, Killeen, TX 76542
Website: https://hotgoodwill.org/
Arms of Hope Donation Center
Address: 1020 W Hallmark Ave, Killeen, TX
Website: https://donatethisrecyclethat.com/
Mission Waco
Address: 1315 N 15th St, Waco, TX 76707
Website: https://missionwaco.org/mission-waco/
Caritas
Address: 3912 Bosque Blvd, Waco, TX 76710
Website: https://www.caritas-waco.org/
Picking a Storage Space
When looking for a storage unit for something such as clothes, you need to make sure you are picking the right space to keep everything in the best condition. The space should be temperature-controlled and protected from environmental factors such as temperature, humidity, and flooding. Clothes can be fragile, so a regulated environment away from the threat of sunlight as well will be perfect for most any of your items, especially women's clothes. Amy's Attic Self Storage can guarantee you all of these factors in order to protect your valuable clothes. Use our discussed tips when storing with us and you will be ensured with preserved and protected clothing.
Storage Units in Central Texas | Amy's Attic Self Storage
Amy's Attic Self Storage offers secure storage units at storage facilities across Central TX. With climate-controlled storage units and friendly customer service, we are a great option for Texans looking for a place to keep their items secure. If you are a local business owner or resident interested in leasing storage space, then please contact Amy's Attic at 855-426-9728.