Waco, Texas has a long and interesting history that many may not know about. It was founded in 1849 on the site of a Waco Native American village, neighbored by a Texas Ranger fort and the Brazos River. While an unassuming Texas pioneer town at first glance, Waco has seen many hardships, triumphs, and renewals throughout America's history.
The Waco people were an offshoot of the Wichita and lived all along the Brazos. By 1824, the Waco people and European settlers often engaged in conflict, though the fighting subsided in 1825 when the explorer Thomas Duke made a treaty with the Waco. They, alongside other Wichita tribes, were eventually pushed out of the area. Some received allotments of land from the American government in 1902 and became US citizens, while others moved to tribal reservation land in Oklahoma and other regions.
In 1849, Shapley Ross built the first cabin in Waco overlooking the springs, where his daughter, Kate Ross, was later born. Many consider Ross the founder of the town, with Kate as the first settler child to be born there. In the following decades, Ross's cabin was joined by many others, helped along by the growth of the railway system, until by 1866 Waco had taken shape into a true frontier town.
Tragedy and Triumph: Black History in Waco
As Waco grew from its humble roots and attracted more settlers, the first black residents of the town unfortunately arrived as slaves to white cotton farmers. Ten years after Waco's official incorporation, the Civil War ended, leaving thousands of freed black men and women to chart their own course.
While some freedmen established their own communities away from Waco, others remained, whether to work as sharecroppers, tenant farmers, craftsmen, or entrepreneurs. East Waco, and Bridge Street especially, became hubs for black-owned businesses, such as the jazz and blues club Walker's Auditorium, the Gem Theatre, and the Jockey Club Barber Shop, among others.
The successes of the black community in Waco have persisted through an indomitable spirit and generations of hard work, but their story has not been without hardship. In 1916, seventeen-year-old Jesse Washington was lynched in front of Waco's city hall to a crowd of over 10,000 spectators. His death sparked a national outcry of condemnation and contributed to public support for anti-lynching legislation and campaigning. In 2016, Mayor Kyle Deaver issued a formal apology to Washington's descendants and the African American community, and a historical marker has been placed to memorialize the lynching.
Above all, Waco's black community is a testament to the truly American ideals of perseverance despite obstacles, and without their contributions to Waco, it's difficult to say if the town would be where it is today.
Business and Organizational History in Waco
Several notable companies and institutions were founded in Waco, including:
Baylor University
McLennan Community College
Texas State Technical College
Dr. Pepper
Big Red Cream Soda
American Income Life Insurance Company
Alamo Plaza Hotel Courts
Easy Gardener Products, Inc.
Life Partners, Inc.
Seeds of Hope Publishers
Word Records
Today, some of the largest employers with headquarters in the city are:
Baylor University (Education), 1,740 employees
Central Freight (Logistics and Transportation), 2,700 employees
Texas State Technical College (Education), 1,680 employees
City of Waco (Public Service), 960 employees
Providence Healthcare Network (Healthcare), 900 employees
Waco's Population Through the Years
Waco shined through several key wars in America, owed to its bridge constructed across the Brazos river which allowed a rare easy crossing point during the Civil War and World War I. These wars, in addition to its place in the growing railroad system, greatly added to its economic as well as population growth, ballooning up from 3,000+ citizens in 1870 to 38,000+ by 1920.
Nowadays, the population of Waco has been growing at a steady pace as more people settle and start families there. In 2010, it was considered the 22nd most populous city in Texas with a population of 124,805. As of the 2019 US Census estimate, 139,000+ people currently reside in Waco, marking an 11.6% increase from 2010—a healthy growth rate for a pleasant, mid-sized town.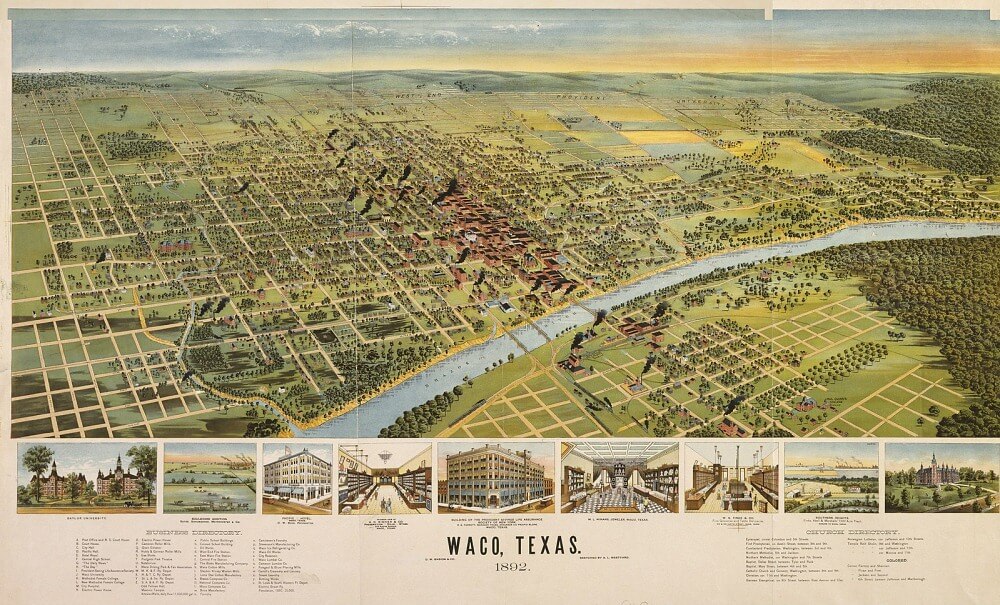 Waco TX Climate
Waco is situated in an area of Texas that is classified as a humid subtropical climate. That means Waco experiences hot summers and generally mild winters. It has been recorded that Waco has experienced at least one 90-degree day every month of the year—which might come as no surprise to Texas natives!
Famous People from Waco
Waco, Texas has been the hometown of many different famous people over the years. From sports stars to actors, there have been many notable names to come out of the city.
Dave Eichelberger (PGA Tour Champion)
Rob Powell (Record breaking fitness coach)
Shannon Elizabeth (Actress in American Pie)
Thomas Harris (Author of The Silence of the Lambs)
Chip and Joanna Gaines (Fixer Upper TV show)
Waco Residential Real Estate
Many may find that Waco is synonymous with the concept of real estate from its host to the TV show Fixer Upper to its attention to investors. From 2018 to 2019, home prices have risen by 7.9%, with a median home value of $126,300 according to Zillow. Currently in 2020, real estate is cheaper than most cities and many have begun to invest in homes in Waco, with the most sought-after neighborhoods being:
1 Elm St / Spring St
Franklin Ave / S 5th St
Bosque Blvd / N 18th St
New homes are constantly being built in Waco, with New Home Source having 43 new homes for sale and 27 being ready to build.
HGTV has an incredibly popular show of the home improvement genre called Fixer Upper starring Chip and Joanna Gaines. This couple travels around Texas restoring dilapidated homes to resell and has helped make a name for Waco in the current years. The show was in production from 2013 to 2018 and had accumulated 5 seasons.
Sights to See Around Waco
Waco has multiple spots that you may want to see, whether you're a visitor from out of town or you're hoping to find and has an extensive history to learn through their many educational opportunities.
Hawaiian Falls Water Park
Grand Lodge of Texas
Waco Suspension Bridge
Magnolia Market
Indian Spring Park
Baylor's Mayborn Museum Complex
Waco History Fun Facts
In 1885, the soft drink Dr. Pepper was invented in Waco at Morrison's Old Corner Drug Store. It preceded the invention of Coca-Cola by one year.
In 1964, the Texas Department of Public Safety designated Waco as the site for the state-designated official museum of the legendary Texas Rangers law enforcement agency, founded in 1823.
In 1978, 68,000 year old bones were uncovered and found to belong to a species of mammoth. 24 mammoths, one camel, and one large cat were found at the site which is now known as one of the largest discoveries of its kind.
Waco is home to a giant gorilla statue named Darwin. He can be seen dressed in a variety of festive outfits throughout the year.
Waco is the birthplace of more Texas governors than any other city.
Self Storage in Waco – Why Amy's Attic Belongs in Waco
Amy's Attic is proud to open its newest facility in Waco, providing personal storage to the town's wonderful community. We're confident we will fit right in with the people of Waco, not only through our dedication to high-quality customer service and secure facilities, but also through our commitment to community support. Amy's Attic Self Storage has raised and donated thousands of dollars for charities, such as the Boys & Girls Clubs of Central Texas, Foster Love, Furniture for Families, and others which support families and children in need across Central TX.
Waco Storage Units – Amy's Attic Self Storage
Amy's Attic Self Storage offers a safe storage environment. With temperature-controlled units and awesome customer service, Amy's Attic Self Storage is ready to serve residential and business customers in Waco. Amy's Attic Self Storage is proud to open a new location in Waco, Texas. If you are interested in renting one of our brand new Waco storage units or have questions, then please call (254) 651-1579. You may also visit our facility at 1821 S. New Road, Waco, Texas 76711. We look forward to meeting you and showing you the newest and most modern storage units in Waco, TX.