As the owner of a boat in Texas, you might be wondering what the best option for storage when you aren't using your boat is. Dry outdoor boat storage and dry indoor boat storage are both popular options with boat owners. With pros and cons for both options, you'll want to consider which is the right option based on your current needs. Keep reading as we discover which boat storage solution would be the best choice for you.
What is the Difference Between Dry Outdoor Boat Storage and Dry Indoor Boat Storage?
Dry outdoor boat storage and dry indoor boat storage both involve taking your boat out of the water during the winter months. Outdoor storage is usually offered in boat marinas and yards or commercial storage locations. On the other hand, indoor storage will take place in a covered dry stack building, where the boats will all sit in large racks and be sheltered from the elements. Indoor storage is typically the more expensive of the two options.
How to Choose the Best Boat Storage Option in Texas for Your Needs
For most boat owners, the number one consideration will be the cost of storage for their boat. Indoor storage is typically more expensive than outdoor storage, but you'll need to search around to see the options to fit your budget. On top of that, the shape and size of your boat may require you to choose one option over another. You'll also find that location may have an impact on your storage options, especially if you live in a part of Texas that doesn't have a lot of storage facilities.
Pros and Cons of Outdoor Boat Storage
Outdoor boat storage is the more popular of the two options due to its lower price compared to indoor boat storage. It usually offers your boat adequate protection over the winter months, but you'll always want to check the reviews and available amenities at the location you are considering storing your boat. As well as storing your boat in the winter months, you can also store your boat trailer in the summer months at an outdoor boat storage facility. Keep in mind that you may not have full protection from inclement weather at this type of facility, as the covers for your boat could potentially come off during torrential rain or hail storms.
Pros and Cons of Indoor Boat Storage
The two big drawbacks of indoor boat storage in Texas are price and access. Not only is indoor boat storage more expensive, but due to the effort involved in storing the boats inside racks in a covered building, you'll find that it's harder to access your boat should you need to while it's in storage. That being said, you'll find your boat enjoys full protection in this type of facility as it will have a roof over the top to keep your boat protected regardless of what the weather is like in the winter in Texas.
Where to Find Your Next Indoor Boat Storage Home
Below are a couple facilities that provide indoor boat storage around Central Texas:
Riviera Marina
14297 FM 2769
Leander, Texas 78641
(512) 250-8321
https://www.rivieramarina.com/dry-stack-boat-storage/
Lago Vista Boat and RV Storage
20103 Alfalfa Drive
Lago Vista, Texas 78645
(512) 267-9596
https://lvboatandrvstorage.com
What are the Benefits of Dry Boat Storage vs. In-Water Boat Storage at a Slip at a Texas Marina?
At many Texas marinas, you also have the option of in-water boat storage. If you have the choice, we would recommend dry boat storage to ensure that your boat doesn't get damaged by the cold or icy water in the winter months. There are more risks when you leave the boat in the water, which is why it's usually best to take it out when it's not going to be used for a while. The climate of the area you are storing your boat will impact the risk of damage to your vessel. It can be easier to keep your boat in the water if you are already paying for a spot in the marina, but this option will depend on the agreement you have in place. We recommend discussing the options at your local marina in Texas to find the right option for you.
Long-Term Storage Best Practice: What To Do If You Will Be Storing Your Boat For Several Months
When you will be storing your boat for multiple months, there are a few steps you can take to ensure your boat will be in prime condition throughout its storage stay. First, we recommend always fully cleaning the inside and outside of the boat ahead of storage. This cleaning can stop mold and mildew from building up and reduce the chance of issues when it comes to getting your boat out of storage in the spring. Fully hose down the outside of the boat to ensure the water and salt doesn't wear down the paint and surface. Make sure you speak to the marina about whether you need to provide your own cover for your boat. This cover should fit the boat well to avoid anything getting inside and keep your boat fully protected all winter long.
Make sure to also have a stable trailer for your boat. placing your boat on wooden blocks will save your trailer tire rubber from potentially unsafe conditions on the ground.
Storage Best Practice: Choose a Good Boat Storage Location
One of the biggest considerations when you are choosing a boat storage location is the distance from the lake and your home. You'll want to choose somewhere that is convenient to you, especially if you need to visit the storage site in the case of an emergency. You never know when you might need to access your boat, and we do recommend checking on it every couple of weeks during the winter months. This practice will give you peace of mind and ensure it's ready for use after the colder weather.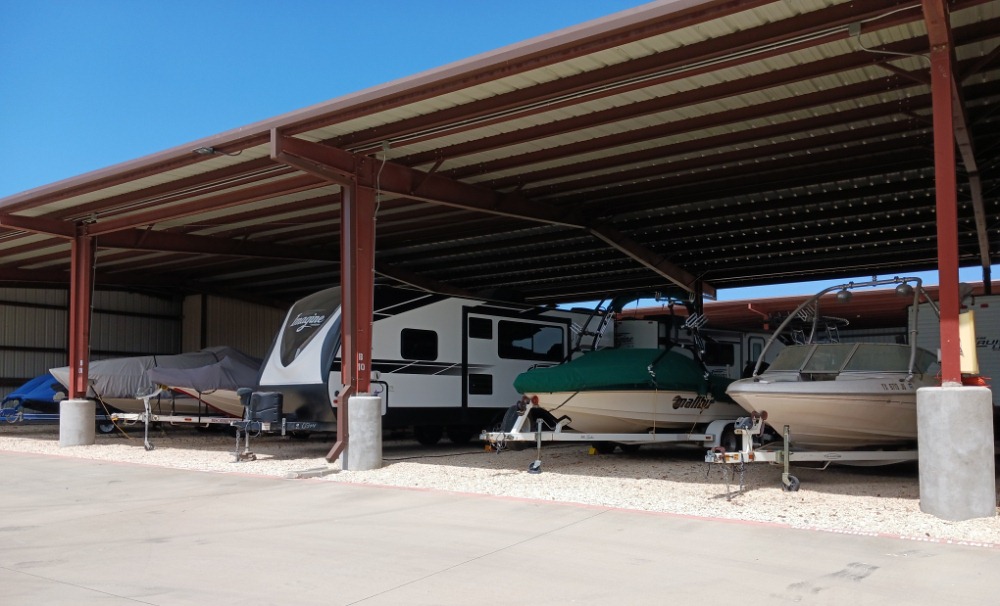 There are many different factors to keep in mind when it comes to boat storage in Texas. We recommend weighing your options to find the right solution for you based on price, location, and the facilities on offer. By finding a storage solution that you feel comfortable with, you'll protect your boat when it's out of use for an extended period. It will then be ready to use again next spring and summer, giving you endless hours of enjoyment in Texas. This storage decision is one of the most important decisions you'll make as a boat owner. Let us know if we can help.
Marina Storage Options in TX
If you're looking for some marina options in Texas, then these marinas listed below might be the ones for you:
Moody Gardens Marina
One Hope Boulevard
Galveston, TX 77554
(409) 741-8484
Safe Harbor Pier 121
1481 E Hill Park Rd
Lewisville, TX 75056
(972) 625-2233
Island Moorings Marina & Yacht Club
3500 Island Moorings Parkway
Port Aransas, TX 78373
(361) 749-4100
Grandpappy Point Marina
132 Grandpappy Dr.
Denison, TX 75020
(903) 465-6330
Store Your Boat in Central TX
Discover the ideal destination for storing your boat in Central Texas – Amy's Attic Self Storage. For almost two decades, we have successfully stored boats at our storage facilities.  Whether you're seeking long-term or short-term boat storage, please rest assured that one of our five locations stands ready to assist you.