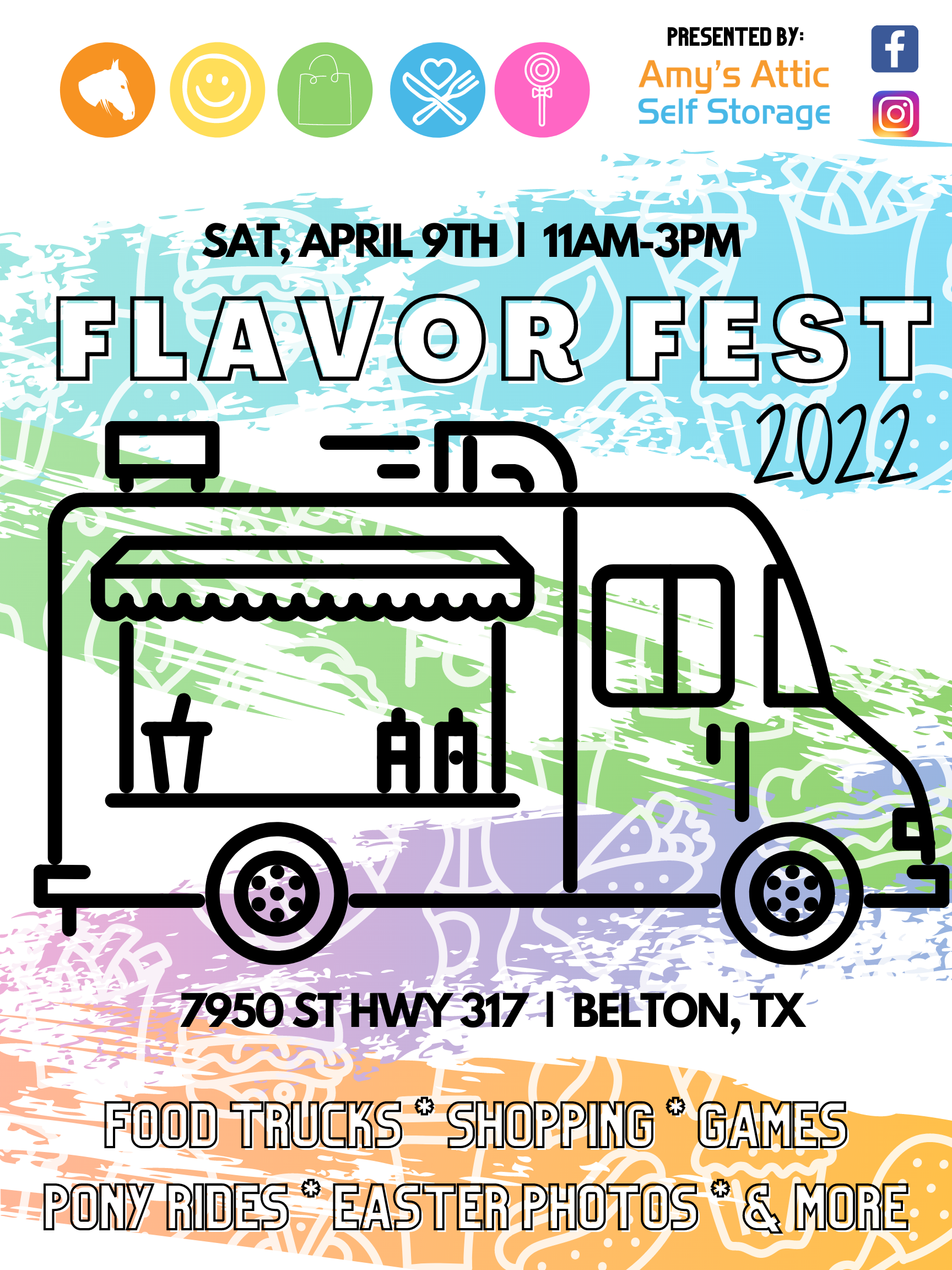 Join Amy's Attic Self Storage for our 7th annual Spring Flavor Fest 2022, which will be held at 7950 State Hwy 317 Belton, TX 76513 Saturday April 9th 11am-3pm.
Enjoy the Spring sunshine at this FREE outside event featuring food trucks, a huge variety of vendors, unique shopping opportunities, photo booth with Belton Bunny, family-friendly games, entertainment, and so much more!
100% of the proceeds goes to benefit Hope for the Hungry.
February 8 – Belton, TX – Amy's Attic Self Storage is sponsoring their 7th Spring festival, "Flavor Fest 2022", on Saturday, April 9 to benefit Hope for the Hungry. This event is scheduled from 11:00 am to 3:00 pm. This family friendly event features 60 food trucks and vendors as well as Belton Bunny, inflatables, entertainment, and much more. This event is to be held at Amy's Attic Self Storage's 7950 TX 317, Belton, TX. Entry is free, as are the photo booth, inflatables, and kids' activities.
Jeff Pedigo, Communications | Strategic Relations, "We appreciate the support of Amy's Attic Self Storage with our food Kids Against Hunger food program." "There are also other programs, partners and initiatives beyond Belton and we are grateful for the support of this community"
Over the years Amy's Attic Self Storage, through its Amy in the Community efforts, has sponsored fundraisers for Belton Educational Enrichment Foundation, Foster Love, Habitat for Humanity, Cub Scouts, Boy Scouts, Families in Crisis, Inc., Salado Fire Department, Operation Phantom Support, Boys and Girls Clubs of Central Texas and local schools through Amy in Education and countless others.
Vendors are placed to allow for socially distanced shopping at this outside event. Hand washing and sanitizing stations are provided. For more information or for businesses looking to help support the event and Hope for the Hungry, contact Mrs. Chandra Howard at (254) 265-6977 or via email at Festivals@amysatticss.com.
About Hope for the Hungry
Hope for the Hungry (Belton, TX) has sought to make a difference in the lives of children and families globally and locally for nearly 40 years. The Kids Against Hunger project with Hope for the Hungry aims to provide nutritious meals to children locally, in Haiti, Mexico and in response to natural disasters. Every $1 feeds four. Additionally, Hope for the Hungry helps encourage local children in Belton as part of our Hope House ministry through our weekly after school program. The ARK2Freedom program of Hope for the Hungry helps to educate and recognize human trafficking in our own community. The Being His Hands and Feet program provides basic needs to individuals who find themselves in seemingly hopeless situations.
About Amy's Attic Self Storage
Amy's Attic Self Storage is locally owned and one of the fastest growing privately held self-storage portfolios in Texas. With state-of-the-art facilities, Amy's Attic provides traditional fixed mini storage, covered parking and outdoor storage. Amy's Attic Self Storage also provides convenient 'rent anytime' kiosks, ATMs and full-service trucks for rent at various locations. Visit www.amysatticss.com or call (855) 426-9728 to learn more about Amy's Attic Self Storage, its storage offerings, available meeting space, Amy in the Community or Amy in Education.