With winter approaching in Texas, it's time to consider putting your RV in storage if you don't plan to use it in the next few months. The good news is that Texas has plenty of storage facilities that allow you to store your RV and keep it in top condition as the weather changes. Today, we will answer some of your most commonly asked questions about RV storage costs to help you find the best option for your needs this year.
What is the Average Monthly RV Storage Cost Nationwide in the USA?
The exact cost of your RV storage will depend on the size of storage space you require. A good first step is to know the dimensions of your RV. Generally speaking, the average cost of storing an RV at an indoor self-storage unit ranges from $100 – $400 a month, depending on the size of your vehicle. The average cost sits at around the $150 mark. Outdoor RV storage will typically be closer to $100 a month, but it will vary based on your size requirements. When looking at outdoor RV parking, you'll find the option of covered or uncovered parking. A canopy can offer your RV extra protection from inclement weather and is often considered a worthwhile upgrade for RV owners.
Optional Costs Associated with RV Storage
As well as the monthly cost of the actual storage facility, other optional costs are often worth investing in. Firstly, insurance is something that everyone should have for their RV, even when it's just going to sit in storage. You never know what could happen to your vehicle when unused for an extended period, and insurance will help to save you a fortune in the long run, should an issue occur with your vehicle.
A cover for your RV can be a worthwhile investment for anyone putting their RV into storage. Ensure you get one that covers your RV fully so water or insects can't get through the cover. There may also be additional options and add-ons at a storage facility to improve your storage experience. When booking, we recommend carefully checking what is and isn't included in the price to ensure you get the full coverage you are expecting.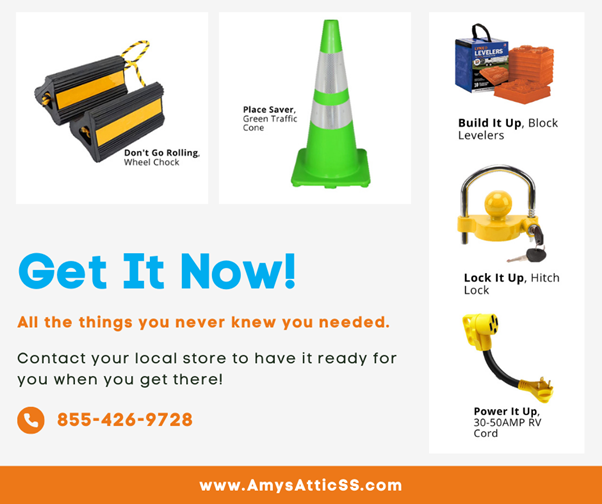 How Much Does It Usually Cost to Store an RV in Texas?
Storing your RV in Texas will typically cost you about $100 to $300 a month, based on the size and storage features you require. This option can drop to as low as $50 for some outdoor uncovered parking spots. In short, there are a lot of considerations to keep in mind when choosing where you will store your RV in Texas.
Texas has a lot of RV owners, so finding a spot to store your RV in the state won't be a problem. Self-storage facilities are familiar with RV storage requests and will work with you to find a unit that will accommodate your RV with no problems. Our team at Amy's Attic Self Storage will be here to share with you the estimated price for storage of your RV based on the size of the vehicle and the requirements you have.
What Size Storage or Parking Space Do I Need for an RV?
To find out what size of storage unit or parking space you need for your RV, you'll want to measure your RV's length, height, and width carefully. The sizes of RVs vary widely, so what works for one RV owner is unlikely to be suitable for everyone's needs. The good news is that storage options are suitable for any vehicle, and our team will work with you to ensure that you find a space that's large enough for your RV. Add extra space around the side of the RV to make parking easier and to ensure you can access it when you need to. You may want to get a larger unit if you have other items you'd like to store alongside the RV to save money instead of purchasing two units.
Indoor vs. Outdoor RV Storage
The main consideration when it comes to your RV is whether you want an inside or an outside storage unit. If you are looking to save money, an outside unit is typically cheaper, but it does have some drawbacks. With the varied weather in the winter months, you are more likely to experience damage to your RV when you don't cover it with indoor storage. However, you could consider outdoor storage with a canopy, which offers a good value for money option with a little more protection.
Indoor storage is the best solution for anyone who is looking to store their RV for a few months (or years) at a time. You'll find that your RV is much more secure inside, so you don't need to worry about checking on it too often throughout the winter months. There are indoor storage units on offer to fit all shapes and sizes of RVs, and we'll work with you to make sure your RV is well-protected and safe inside. Just make sure you fully prepare the vehicle for storage beforehand to avoid issues when it's time to get it out again in the spring.
RV Storage Discounts Available at Amy's Attic Self Storage in Central Texas
Here at Amy's Attic Self Storage, we offer a range of discounts to our customers in Texas. First responders and members of the U.S. military all enjoy discounts when using our storage facilities, as do ISD (independent school district) employees. If you prepay for storage annually, then this payment option is also a great way to save money, as we offer annual discounts for our clients using this option.
As you can see, there are many different options when it comes to RV storage in Texas. For more information about how we can help you to keep your RV safe and secure this year, contact our team at Amy's Attic Self Storage today. We'll be happy to answer your questions about our storage options and support you in finding the best option for your unique needs.