How to store your golf clubs the right way
Serious golfers spend thousands of dollars on golf clubs and equipment, including shoes, balls, bags, push carts, gloves, and grips. However, sometimes the seasons of life force golf lovers into a short hibernation or break from their favorite sport. Read the article below to learn the best practices of golf club storage.
For Texas golfers who are serious about their golf games, it is important to know how to store high quality golf gear appropriately. Although many private country clubs will store your clubs indefinitely (as part of the private club membership), many Texans may not be a private golf club member. In addition, some Central Texas golfers may wish to store their valuable golf possessions in a private secure storage unit.
The key lesson for how to store golf equipment properly can be simply put in a sentence: it's all about temperature controlled or climate controlled storage. Exposure to extreme temperatures, either too hot or too cold, will damage golf clubs quickly. Therefore, finding a safe, dry place to store your clubs is vital, whether you are a frequent (or low handicap) player that would go to the course every day or just a seasonal / weekend golf warrior. Follow these tips below for proper golf storage, and you will find your golf clubs and equipment in tip-top shape for years to come.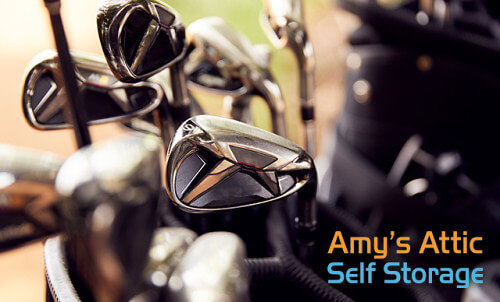 Don't leave your clubs in the car.
It is tempting to leave golf clubs in the car's trunk, especially for those who play daily or every other day. However, it is a common mistake that you want to avoid. As you drive around, your clubs will be moving around which possibly causes dents and nicks. Golf is already difficult enough. There is no need to make the game harder by damaging the heads of your clubs. (or worst case scenario your putter since you "drive for show and putt for dough")
In addition, the trunk of a vehicle is more susceptible to damage from a rear-end car accidents and items from cars and trunks are much more likely to be stolen than items from homes. (especially if your park your car or truck outside as opposed to inside a garage)
Temperature in Vehicle Trunks
Also, your trunk is not a climate-controlled environment. Storing clubs in a trunk can cause serious damage to your clubs. In a Texas summer, your trunk temperature can easily climb to 120 degrees (or higher). This extreme heat can not only cause the clubs to rust, but also cause the glue in the club grips to break down. In addition to golf club grips, the heat can ruin the epoxy that's used to affix the clubhead to the shaft.
In winter, things can get worse. Bitter cold causes the grips to get slick or crack since steel shafts do not react well at all to the cold. The reason is what is known as the coefficient of thermal expansion. Although it would take a college semester to fully understand this phenomenon, the CliffsNotes version is that materials expand or contract depending on the temperature, thus affecting their properties. Regarding golf club shafts, graphite should be less affected than steel by cold weather. "It's why you see more aircraft and space shuttles, etc…, using composite materials instead of steel or even titanium. It is less affected by changes in temperature," one notable golf club manufacturer told Golf Digest magazine a few years ago.
So where should you store your golf equipment?
Day-to-day storage
It is okay to leave your golf bag in the garage for a few days for convenience if it is temperature-controlled and dry. Otherwise, high humidity and heat build-up in the garage. Although garage environments are not as damaging to golf equipment as vehicle trunks, the environment of a typical residential garage in Central Texas can lead to rust and dry out the club grips and cause them to harden or crack. If you have noticed problems with your club grips after storing them in the garage, then you should probably bring your golf bag inside your house as a safeguard going forward. It is also recommended to give golf clubs a dry-off and make sure that the golf bag interior is dry before storing them inside.
Long-term storage
If for some reason you do not plan on playing for a while, then the first important step should be finding a safe place to store your golf clubs. Your garage is not an ideal place for your clubs. You will need to either bring your gear inside to a closet or a corner of your home or consider storing them in a dry, climate-controlled self-storage facility.
How to deep clean club gear before storing
Before putting your beloved golf clubs away, giving your golf gear a deep clean is a must. It may sound overwhelming, but just a little extra care and attention will benefit your golf equipment in the long run.
Start with the golf bag by emptying all pockets, and wiping it down with a warm, soapy rag and then let it dry completely.
For your clubs, soak them in a warm bucket of water and use some soap to loosen up the dirt. Ensure that only the club heads are covered in water, not the shafts. Next, scrub the club heads using a soft toothbrush, then rinse and dry them off completely. Do your best to clean out the dirt and debris in the grooves. For certain clubs, such as milled putters, add baby oil or Vaseline all over after it is dry will help prevent rusting. The grips and shafts can be wiped down with a soapy rag. When you are done with cleaning, put them back in the back in the upright position.
Consider Investing in a Golf Club Storage Rack
A storage rack can either be placed in your home or your local self storage unit. A few highly rated golf storage racks on Amazon are:
Suncast Golf Bag Garage Organizer Rack – Golf Equipment Organizer Storage (4.6 out of 5 stars)
Morvat Golf Organizer for Golf Gadgets, Golf Bag & Golf Accessories (4.5 out of 5 stars)
Crestgolf Acrylic Golf Club Organizers Golf Club Display Golf Putter Rack (3.9 out of 5 stars)
2 Pack Golf Butler Club Holder Caddy Stand (4.5 out of 5 stars)
Koova Golf Bag Storage Rack- Wall Mount Garage Organizer for Golf Clubs (4.5 out of 5 stars)
Golf Club Display Rack 12 Club Holder (5.0 out of 5 stars)
Are you a new resident looking to play golf in Central TX?
Many of the greatest golfers of all time, such as Ben Hogan and Lee Trevino, are from Texas. Did you know that Ben Crenshaw, who is from Austin, TX won two major championships during his illustrious career? (Masters Tournament in both 1984 and 1995) Central Texas is a golf destination with several top golf courses including:
Ridgewood Country Club (private)
7301 Fish Pond Road
Waco, TX 76710
Mill Creek Golf Club (semi-private)
1610 Club Circle
Salado, Texas 76571
Cottonwood Creek Golf Course (public)
5200 Bagby Avenue
Waco, TX 76711
Cowan Creek Golf Club (public)
1433 Cool Spring Way
Georgetown, Texas
Wildflower Country Club (private)
4902 Wildflower Lane
Temple, Texas 78633
Stonetree Golf Club (semi-private)
1600 Stonetree Drive
Killeen, Texas 76543
Barton Creek Fazio Canyons Golf Course (public)
8511 Carranzo Drive
Austin, TX 78735
Looking for golf club storage or a space to store your golf equipment in Central Texas? We can help!
Amy's Attic Self Storage has been proud to serve the community of Central Texas since 2004, with many locations in towns across the region. If you need seasonal or long-term storage for your golf gear, then Amy's Attic has the stellar service and top-of-the-line facilities you need. Our units are climate-controlled and monitored at all hours. Find the location nearest you at https://www.amysatticss.com/locations/.