From hot and humid summers to cold and dry winters, the Waco climate is not ideal for the standard self-storage treatment. Find out why climate-controlled facilities are a game changer when it comes to storing your belongings in Waco!
As a community, we have all seen how unpredictable Waco's weather and climate can be throughout the year. While we can't control the weather, we can control how we plan to protect what's ours. While the standard storage unit only provides space for your belongings, it does not guarantee the preservation of your belongings during Waco's temperature fluctuations. Whether there is a heat wave or a cold front, both weather conditions can significantly impact how certain items are stored, especially long term. Instead, climate-controlled storage regulates the unit's temperature and humidity, allowing customers to store easily.
Climate-Controlled Units at a Glance
Climate-controlled storage offers an extra level of protection to ensure your belongings remain dry and at the ideal temperature. In return, your belongings are kept safe during storage and can prolong the life of some of your belongings. While it may cost more, the slight additional cost is minor when it comes to protecting what is yours.
Waco Climate Controlled Storage – Why You Need It
If you live in Waco and are looking to store for extended periods of time, investing in climate-controlled self-storage is 100% worth it and this is why! Aside from protecting your belongings against a variety of weather and climate factors, climate-controlled units can protect mildew or mold from spreading inside the unit. With regulated units, you are ensured to have no odd smells or damp items inside! While anybody can get a climate-controlled unit, it is definitely recommended for the following scenarios:
Long-term storage.
Sentimental belongings.
Expensive or fragile items.
Lives in an area that fluctuates in weather or climate.
Furniture or items made out of material.
As an overview, below is a chart to help assess whether or not you could benefit from a climate-controlled unit.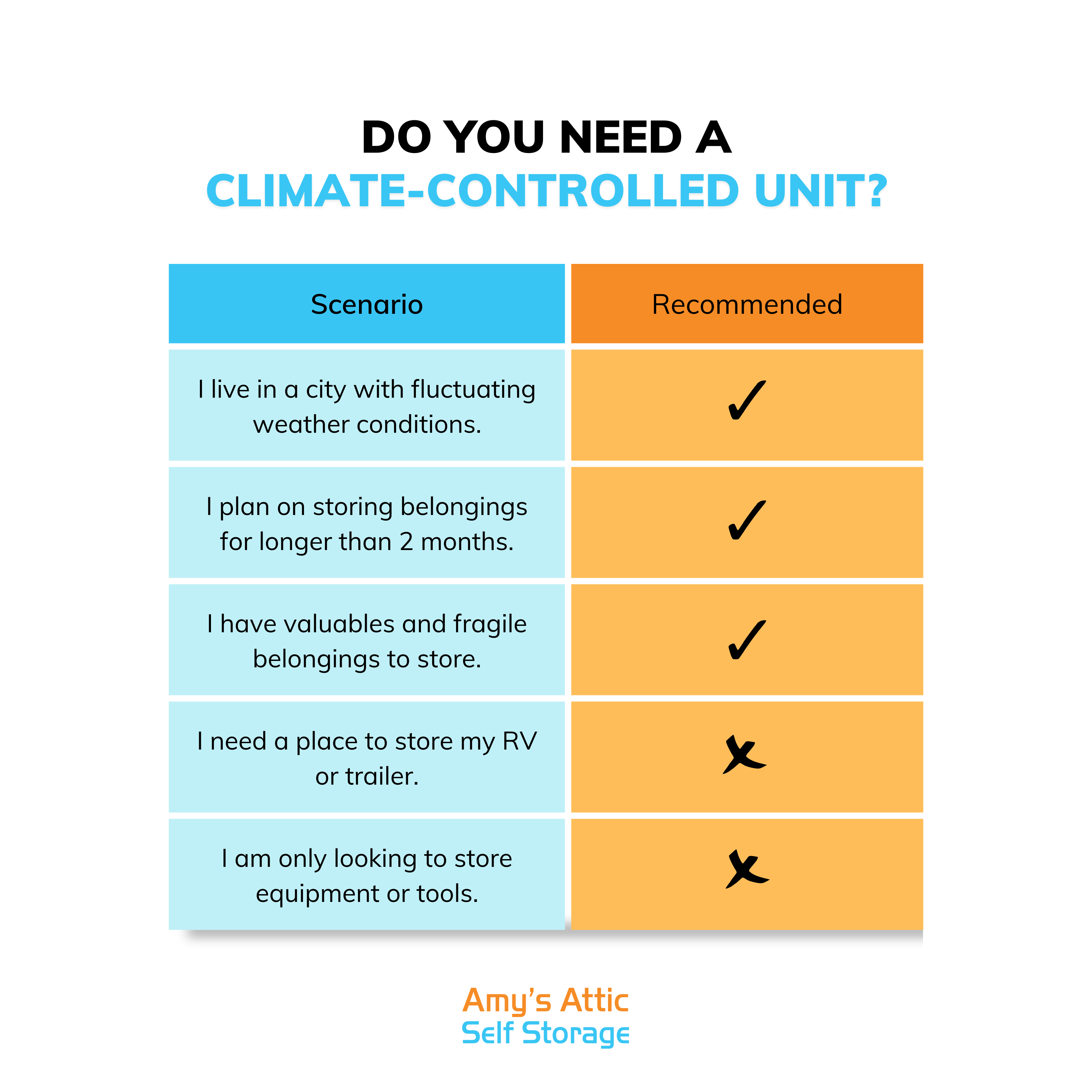 Weather in Waco
While the average day is comfortable in the summer and bearable in the winter, Waco is no stranger to fluctuating weather. With extreme temperatures reaching 114 degrees in the summer of 2018 to -1 degrees in the winter of 2021, Waco has its fair share of varied and intense weather fronts. As a result of the constant weather shifts, Waco is prone to power outages. In fact, Texas is ranked no. 1 for weather-related power outages in the United States. Fortunately, after the terrible winter storm in 2021, Texas has been seeking to improve the state's power grid to prevent future outages.
Famous Past Historical Weather Events in Waco
By understanding some of Waco's historical weather events, you can prepare yourself and your belongings for the next extreme weather. Let's take a look at the top 3 most remembered weather events in Waco, Texas!
– 1953 Waco Tornado Outbreak
On May 11, 1953, Waco was hit with the state's deadliest tornado outbreak killing 114 and injuring 597. This powerful F5 tornado cut through the city destroying everything in its path. Many survivors were left waiting for 14 hours before being rescued. With the death toll being so high and the damages being so costly, a conference was held to talk about ways to prevent death tolls in future natural disasters. Check out this short YouTube video with photos from this deadly tornado.
– July 2018 Heat Wave
While Waco is known to have hot summers, July 2018 was aside from the average. During the month of July, 22 days out of 31 days had a high of 100 degrees or more. The hottest date to record was on July 23, 2018. Temperatures reached a high of 114 degrees in Waco. This record ties in with El Paso on their hottest day in 1994.
– February 2021′s Arctic blast
More recently, Waco underwent record-breaking wintry weather in mid-February 2021. The weather was caused by an artic polar vortex that brought strong, icy air from the North Pole. With roads frozen over, flooded homes, and a collapsed power grid, hundreds of thousands of citizens were left with no heat, power, or access to the roads. There were a total of 205 consecutive hours of below-freezing conditions. Out of the weeklong blast, the coldest day was February 16th with -1 degree conditions. Want to see how freezing it was? Check out the YouTube video below!
Climate-Controlled Units in Waco at Amy's Attic Self Storage
For 17 years and counting, Amy's Attic Self Storage has proudly served Central Texas through its modern storage facilities. With five locations throughout Central Texas, Amy's Attic leads the community in both residential and business storage. Our State-of-the-Art facilities offer an accessible, secure, and clean storage environment for your needs. If you are interested in renting a unit in Waco, Texas, or have any questions, please visit our website at https://www.amysatticss.com.