Aug 3, 2018 – Temple, TX – Amy's Attic Self Storage will hold their next bi-annual crafts festival on Saturday, October 13 benefiting Young Life Ministries. This event is scheduled from 10:00am to 2:00pm. With a goal of contributing $2,000 this family friendly event will offer everything from food to bounce houses for children to crafts shopping for adults as well as a raffle for gift baskets. This is a free event to be held at Amy's Attic Self Storage's 800 Prospector Trail Harker Heights location.
Mrs. Chandra Howard, event Chairwoman added "We believe with the tremendous and generous support of area businesses and families alike along with approximately fifty very talented crafters we will have our largest attendance and contributions by far."
Bob Vamvas, Director of Operations said "Over the years Amy's Attic Self Storage through its Amy in the Community efforts has sponsored the Boys and Girls Club, Cub Scouts, Boy Scouts, Children's Rainbow Room, Families in Crisis, Operation Phantom Support, local schools through Amy in Education, Furniture for Families and countless others. The last festival resulted in collecting well over $1,000."
For more information and application interested crafters and vendors as well as businesses looking to donate to the gift baskets should contact Mrs. Chandra Howard by calling (254) 526-7867 or via email at CraftFestival@AmysAtticSS.com.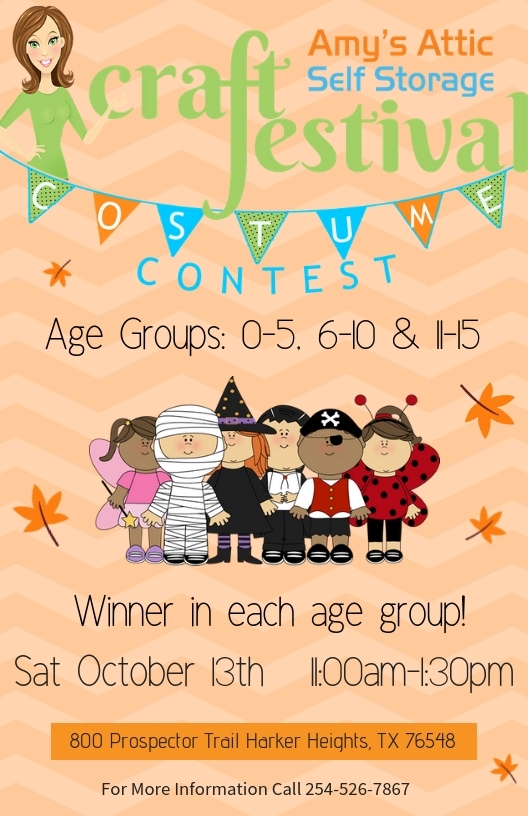 About Young Life
Mid-Tex Young Life is a ministry that is based in Temple and Belton, Texas. The ministry was started in Dallas, Texas in 1941 and operates globally. The Mid-Tex chapter of Young Life is led mostly by young adults whose mission is to spread the gospel through building authentic relationships with high school students in a variety of groups throughout our area and earning their trust by continuing to show up in their lives. Young Life is a multicultural ministry that focuses on building relationships with kids in all kinds of diverse cultural communities, even those in under resourced areas, and is arguably the largest of its kind in the United States. Mid-Tex Young Life also runs YoungLives, a ministry to teen moms and their children. For more information about Young Life, contact Tucker Morrow at 210-787-8472 or by email at morrowtucker@gmail.com
About Amy's Attic Self Storage
Amy's Attic Self Storage is locally owned and one of the fastest growing privately held self-storage portfolios in Texas. With state of the art facilities Amy's Attic provides traditional fixed mini storage, covered parking and outdoor storage. The Harker Heights location is also equipped with a meeting room for rent. Amy's Attic Self Storage provides convenient 'rent anytime' kiosks, rent-anytime online features, ATMs and full-service trucks for rent at various locations. Visit www.amysatticss.com or call (855) 426-9728 to learn more about Amy's Attic Self Storage, its storage offerings, available meeting space, Amy in the Community or Amy in Education.
Event Pages
Festival About Page
Festival Facebook Event Page
Costume Contest Facebook Event Page
Press Contact: Mrs. Chandra Howard, Manager and Event Chairwoman
(254) 526-7867 CraftFestival@AmysAtticSS.com