At some point or another, you may have accumulated too many belongings for your current living or office space. Even if all your belongings are essential to keep, the clutter can become overwhelming and create a lot of stress. Reliable space can be hard to find, especially when you don't know where to look. Whether the factor is an upcoming move or needing to free up some house or office space, having an adequate unit that suits your storage needs can be a huge relief. Self storage units allow you to use your time towards the move or simply to relax in a more open space.
When looking for a storage unit, it is important to know how much room you need to fit your items. If your unit is too small, then you will be left frustrated by the wasted time and money. On the other hand, if your unit is too big, then you will be paying for unnecessary extra space. A common unit size that can fit a lot of what many people are looking for is the 10 x 20 unit. In this article, we will be taking a look at what are common items to fit in there as well as top storage unit packing tips.
How Big is a 10 x 20 Unit
It's easy to look at numbers and do the math that 10 x 20 is 200 square feet, but how big is that really? An easy comparison is to picture a standard size, one-car garage. It has a decent amount of space for storing some bigger furniture or a lot of smaller items as well. If utilized correctly, a 10×20 unit can store around 4 bedrooms worth of items! Many units have a standard 8-foot ceiling allowing for tall stacks and taller items. In conjunction with the 200 square footage, you can leave some impressive, sizable furniture in there.
To picture it even further, you can fit a standard car as well as a full dining room set and still have some space left over. This size is perfect for storing a substantial amount of items from a move or clearing out bedrooms or kitchens for renovations. If you want to have a further understanding of just how big the unit is, this video here is a perfect visualization of what you can expect when securing a 10 x 20 unit.
What You Can Fit in a 10×20 Unit
A 10×20 is one of the bigger units that you can rent. 200 square feet provides enough space to allow you to store larger furniture like mattresses or wardrobes. Whether you have bulky, larger furniture or have piles of boxes, a 10 x 20 unit can fit what you need. Below, you will find a list of what you can comfortably fit in a 10 x 20 unit:
Bedroom Furniture from multiple rooms
Living Room couches
Washer / Dryer
Fridge
Dining Room Set
Patio Furniture
Large exercise equipment such as treadmills
Car
Motorcycle
Camping/fishing equipment
Luggage
Wardrobes
Desks business sized
Keep in mind that any of these items can be easily mixed and matched to fit into a larger space if you are skillfully organized.

Tips for Organizing 10 x 20 Storage Units
Once you know what you want to store in your 10 x 20 unit, you can start brainstorming the most efficient way of packing up all the items. This requires forethought and a bit of strategy so that you can be less stressed during the process and save some time. Without any prior planning or research, you may end up with some damaged items during the moving process. Since we know a few things about storage, read our Amy's Attic Self Storage tips for organizing storage units below!
Plan out your moves in advance. Prior to moving, put together a list of items and write/draw how you want them stored in the unit for streamlined moving.
Clean items prior to storage. Your items should be kept clean and prepared for storage without any residue or dampness. After cleaning them, it is crucial to let them dry fully to ensure no off-putting odor.
Choose similar sized boxes. It's best to keep in mind that boxes that have similar sizes are easier to stack on top of each other and next to each other.
Disassemble larger items. Remember to take bigger items apart and put them in separate boxes nearby to maximize space. Screws should be taped to the largest part in a little baggie.
Place important items in the front of the unit. Identify what items you may find yourself grabbing first or more frequently and place them to the front of the unit.
Plan where to store bigger and fragile items. We recommend that you store larger / heavier items on the bottom. Then, use the space above your bulky items for lighter or more fragile items. This technique helps to prevent damage and uses the vertical space in a safe way.
Double-protect your fragile items. Wrap fragile items with care. Also, ensure that you place fragile items in a spot where they are not at risk of being crushed.
Label away! Put labels on boxes of what is inside for easier identification.
Cover your heavier items, such as beds and sofas, with blankets or towels to prevent them from being dirtied or damaged.
Take multiple photos with your phone as you place belongings into your unit to help you remember where you placed items.
If you ever find that you are needing help with storage tips or the process, you can try reaching out to a staff member who can give some tips or may have tools to help. It's important to have these plans established beforehand instead of winging it. Not having a plan could cost you time and money that may be spent better elsewhere.
YouTube Video on How to Organize a Storage Unit
If you are a visual learner, then check out the video below for a great tutorial on how to organize your unit for safe and efficient storing.
Amy's Attic Self Storage Truck Rental
If you find yourself scrambling for some extra wheels to get all of your items into your 10 x 20 unit, then remember that Amy's Attic Self Storage offers a free truck rental (at some locations). Give us a call and you may be able to check out one of our capable vehicles to make moving into your unit all the easier for you. You can check here to see what you need to do to get your hands on our spacious truck for all your moving needs.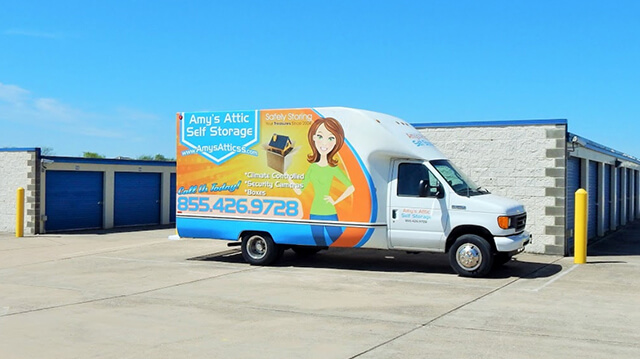 10 x 20 Storage Units in Central Texas | Amy's Attic Self Storage
Amy's Attic Self Storage offers secure storage units at storage facilities across Central TX. With climate-controlled storage units and friendly customer service, we are a great option for Texans looking for a place to keep their items secure. If you are a local business owner or resident interested in leasing storage space, then please contact Amy's Attic at 855-426-9728.
As of November 2021, we currently have 10 x 20 storage units available in our new location in Waco, TX. Please check our website often as units become available on a regular basis. In addition, we are opening a new location in Temple in December 2021 that will have plenty of 10 x 20 units available for rent.